Call Of Duty: Advanced Warfare Launch Trailer Deploys Kevin Spacey's Army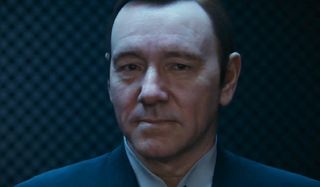 Call Of Duty: Advanced Warfare's release date is still weeks away but Activision decided that today's the day for a launch trailer. They've released a new gameplay montage centered on the single-player campaign.
Advanced Warfare is set in the mid-21st century. A terrorist group destroys the nuclear reactors of several countries throughout the world. These devastated nations turn to Atlas Corporation, a private military company, for protection. Atlas is led by Jonathan Irons, a speechifying businessman played by Kevin Spacey.
The player character is Jack Mitchell, a former U.S. marine. He's gravely wounded during a mission in Seoul, which you may have watched during Microsoft's E3 press conference. He joins Atlas and is outfitted with top-of-the-line technology as he strikes at enemies throughout the globe.
I'm going to take a lazy glance at my crystal ball here and say that Mitchell probably ends up fighting against Atlas itself eventually. I mean, Kevin Spacey can't just be a good guy, can he? I don't think you get the guy from House of Cards to play a kindly boss without evil plans. Plus, private military companies tend to be popular villains in video games nowadays. If you make a military shooter, your bad guy's either going to be terrorists, PMCs or fictional Third World countries.
Atlas' soldiers will have some impressive gadgets at their disposal. These range from threat-detection grenades to directed-energy weapons. The most significant innovation in Advanced Warfare, though, is the exoskeleton. This suit gives them super-strength while also enabling them to nimbly jump and climb across environments.
"The exoskeleton carries over into Multiplayer, where an all-new movement system changes the way players traverse the terrain," Activision says. "Chain together boost actions like jump, dodge, and dash in a fast and fluid style of play. Equip all-new abilities and armaments in the revamped Create-a-Class. Earn additional weapons and gear through in-game Supply Drops, outfitting your operator in the deepest customization experience in franchise history."
Oh, and in case you're wondering: the song isn't by the White Stripes. It's "Salute Your Solution" by the Raconteurs. Jack White was the vocalist for both groups.
Staff Writer at CinemaBlend.
Your Daily Blend of Entertainment News
Thank you for signing up to CinemaBlend. You will receive a verification email shortly.
There was a problem. Please refresh the page and try again.