Call Of Duty: Black Ops 2 Zombie Mode Confirmed, Development Team Has 300 People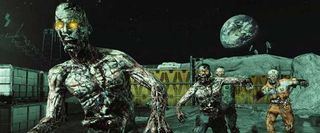 For Call of Duty: Black Ops 2, Treyarch will be bringing back the popular zombie co-op mode from COD: World at War and the first Black Ops. In a new interview, Treyarch head Mark Lamia describes the Black Ops 2 zombie mode as being "another game" entirely.
"The campaign's pretty big and ambitious. The multiplayer is pretty big and ambitious. And they really are creating another game with the Zombies there," Lamia told VentureBeat.
The development team for Black Ops 2 matches their ambition. There's a few hundred people working on the game. However, most of the team is located at Treyarch. This is in direct contrast with Modern Warfare 3, which was developed by three studios.
"There's over 250 people at Treyarch, but there's over 300 people working on the project. We do have contractors and test teams that aren't part of the company. Those others aren't actually employees of Treyarch. But there's over 300 people working on the game right now."
In the zombie co-op mode from previous COD games, players fend off waves of the undead. Each kill gives players money, which they can spend on new weapons or bolstering their defenses. It stood out from other "Horde Mode" modes offered in other games thanks to its off-beat style. For example, one zombie map let players take on the role of JFK and Fidel Castro, among other historic figures.
The futuristic setting of Black Ops 2 should allow Treyarch to make the updated zombie mode even wackier. Remember the Moon base map from Black Ops' zombie mode? Imagine something even weirder than that.
Staff Writer at CinemaBlend.
Your Daily Blend of Entertainment News
Thank you for signing up to CinemaBlend. You will receive a verification email shortly.
There was a problem. Please refresh the page and try again.