Call Of Duty: Ghosts Wii U Release Confirmed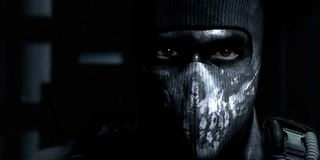 Activision has six Wii U games coming this fall, the publisher announced today. One of those half-dozen releases is Call of Duty: Ghosts, the latest entry in their billion-dollar shooter franchise.
Ghosts imagines a future in which America has been greatly weakened. The player character is a member of the Ghosts, an assortment of U.S. Special Forces members that comes together to strike at the USA's enemies. The game was previously confirmed for PS3, PS4, Xbox One, Xbox 360 and PC. Activision says that the Wii U version will support the Wii Remote and second-screen GamePad features but that's all the details they provided. They did release the official box art through Facebook, though.
Skylanders SWAP Force will also be coming to Wii U this fall. SWAP Force is a platformer that lets players buy real-life action figures and then summon them into the game as playable characters. Half of the game's 32 new characters have interchangeable tops and bottoms that you can mix and match to change their abilities. The game is said to be fully playable on the Wii U GamePad, so it can be enjoyed even if someone else is using the TV.
"As we have said before, we're committed to doing everything we can to support the Wii U, which is why we're excited to be bringing some of the most popular entertainment franchises in the world to the platform this year," said Eric Hirshberg, CEO of Activision Publishing. "The Call of Duty franchise continues to be one of the most powerful forces in gaming and Skylanders continues to enchant new fans around the world. Our studios have been hard at work creating brand new immersive experiences perfectly suited to the Wii U platform and our fall lineup has something for everyone."
Two games in the popular mobile series Angry Birds are Wii U-bound as well. In Angry Birds, players fling birds with special abilities at structures in order to make them topple over onto enemies. Angry Birds Trilogy is a compilation of the content in Angry Birds, Angry Birds Seasons and Angry Birds Rio. Angry Birds Star Wars will come loaded with 120 levels inspired by the film series as well as two new multiplayer modes. The games should be well-suited to Wii U, as the GamePad's touchscreen will make you feel like you're playing the original smartphone or tablet versions.
The other two games on the way are both inspired by television shows. In SpongeBob SquarePants: Plankton's Robotic Revenge, players must defeat Sheldon J. Plankton and his robot army in order to recover the Krabby Patty formula. The co-op adventure will allow players to take on the role of several characters from the Nickelodeon series including SpongeBob, Patrick, and Squidward. Wipeout Create & Crash, meanwhile, recreates the popular obstacle course game show. Create & Crash goes one step further, though, by offering players the tools to create their own obstacle courses and then share them with friends.
As you can see, Ghosts is the only "core" game that Activision has planned for the console. Ports of well-established franchises might be all that hardcore Wii U owners can expect from third-party publishers moving forward. Ubisoft gambled big on the Wii U with the exclusive ZombiU too and couldn't make a profit. It'll be hard for Nintendo to convince other companies to take that plunge.
Staff Writer at CinemaBlend.