Chilling Italian Horror Game Announced For Xbox One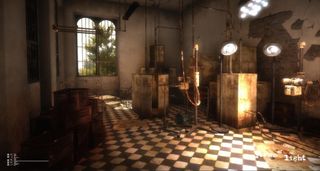 Who says PlayStation gets to have all the fun with the horror gaming? Xbox has been stereotyped as a console that totally owns the first-person shooter genre with popular exclusive triple A titles like Halo and Gears Of War, but it seems Microsoft is trying to break that mold this year with more narrative-driven games like the upcoming Xbox One-exclusive Quantum Break. And just recently, Xbox One announced something a little different in the running, a horror title called The Town Of Light.
The game is set to release in a few days on PC, but just recently announced an Xbox One release for later in the year. The game stars Renee, a patient at Volterra Psychiatric Asylum and her misadventures as she and the other patients are horribly mistreated. The asylum is said to actually have been based off of a real Italian asylum that existed in the early 1900's. Check out the brief trailer below.
Many asylums in the United States can relate to this kind of story, for some, like Pennhurst in Pennsylvania, had succumbed to the extreme mistreatment of patients. And while medical science has greatly increased over the years as we gain more knowledge and understanding, many of the old asylums still stand, abandoned and mournful and chock full of those that had passed in dark times.
Asylum history really intrigues me because most people remember those times as being dark for medical science, a time when the state of many asylums was questionable and horrible and secret experiments were being performed on patients. It's nice to see a game take a different route with the asylum-based horror game. Rather than exploring something haunted and abandoned, you get to play as an actual patient. And that is something many horror games haven't done in recent years. Rather than rely on supernatural horror, instead they borrow from the darkest parts of medical history—that gives me chills to the bone.
The Town Of Light will be releasing on PC on February 26, and there isn't a confirmed date for the Xbox One version, but it is supposed to release sometime later this year. If you would like more information or to read Renee's diary from being in the asylum to get geared up for the game, you can check out the official website.
Your Daily Blend of Entertainment News
Thank you for signing up to CinemaBlend. You will receive a verification email shortly.
There was a problem. Please refresh the page and try again.