This Classic Final Fantasy Game Is Coming To Mobile Devices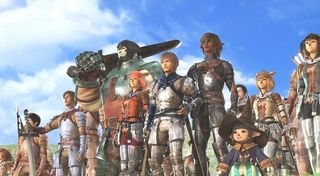 Square Enix is making a change to one of their older Final Fantasy titles: they're shutting down Final Fantasy XI on the PS2 and the Xbox 360, and they're bringing the game to mobile devices.
Gamespot has an article up explaining how Square Enix will be shutting down Final Fantasy XI, the popular MMO for home consoles and PC, and moving it over to mobile devices starting March, 2016.
Final Fantasy XI came out way back in 2002, well over a decade ago. The game popped onto the market during a time when MMOs were a rarity, and competition was relatively thin save for Sony Online Entertainment's Everquest series, and the sporadic Korean MMO.
Square managed to secure a fairly sizable audience with Final Fantasy XI and then proceeded to port the game to the Xbox 360 several years later.
Well, after a decade of operation the game is closing up shop on the old-gen consoles and finding a new breath of marketable air on the mobile gaming space, thanks in part to Nexon.
According to a statement by Nexon, who will be handling the port job, they stated...
The mobile version of Final Fantasy XI is due for release around the same time that the PS2 and Xbox 360 versions of the game will be shutting down. March, 2016 will be an exciting time for Square because they'll be able to see how well the Final Fantasy property does as an MMO on mobile devices, joining the likes of other Final Fantasy RPGs already available on mobile phones and tablets.
The news sparked a wave of discussion from gamers about the decision from Square, with the common question being: how will an MMO be played on a mobile device?
It's a good question, to be honest. I mean, you don't get the same level of control or control mechanisms on a touchscreen as you do a keyboard and mouse. That's not to mention that it usually takes a full keyboard and mouse or lots and lots and lots of controller combinations to manage playing an MMO. It's not just a matter of getting all the combat and movement controls condensed down into a manageable form on mobile devices, it's also a matter of dealing with the social interactions as well. How will chat be handled? How about partying and grouping? Raids? How about attempting to balance combat with party commands?
I'm just interested to see how Nexon handles the port. While I don't doubt that the graphics will turn out pretty decent, I really can't get over some of the more nuanced mechanics of an MMO and trying to figure out how that will all work.
According to a Eurogamer article it's noted that...
Well I'm sure many of us expected things to be rearranged, but I guess we'll see just how rearranged it is when it launches in 2016.
If you own an Xbox 360 or PS2 it might be best to get in your time with Final Fantasy XI if you haven't already, there's just a year left to play the game before it shuts down on home consoles. On the upside, the PC version of the game will stay active beyond the March, 2016 shutdown date.
Your Daily Blend of Entertainment News
Staff Writer at CinemaBlend.