Club Nintendo Gets Mario 2, Balloon Fight, More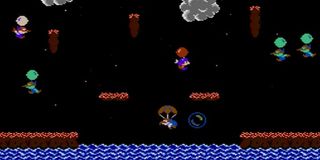 It's the beginning of a new month, which means it's also time for another collection of games to rotate into the Club Nintendo Coin exchange program, offering four titles players can enjoy for free so long as they have enough loyalty points to exchange for them. This month's offerings are...mostly not all that great.
It's December, so for whatever reason, I got it in my head that Nintendo would be offering something special through the Club Nintendo rewards program this month. A little something extra nice for the holidays, you know? I had no reason to assume this, and now I see that the old adage about going down that particular unknown road is 100 percent true.
To be fair, the Wii U's Club Nintendo offerings are pretty okay. There's Balloon Fight for 200 Coins and Super Mario Bros. 2 for 150 Coins. For the record, that's the original Japanese version of Super Mario Bros. 2, which was later released here in the states as The Lost Levels. It's basically just a harder version of the original Mario, but required playing for Nintendo diehards.
Over on the 3DS, however, things are a bit more smothered in lame-sauce. You can get your hands on Mario's Picross for 100 Coins or the no-frills tower defense game, Starship Defense, for 150 Coins. I'm sure there are folks out there who will be excited to pick these titles up in exchange for their hard-earned Coins, I'm just not one of them this month.
For those unfamiliar with the program, Nintendo Rewards awards Coins to purchasers of Nintendo goods in exchange for registering the product. You simply set up an account at the official website, start registering your games and consoles, and receive a healthy sum of Coins for the effort.
You can also get additional coins for taking a survey concerning an upcoming game you plan on purchasing, as well as taking a survey after you've had a few days to actually play said game. Each month, a collection of four games (usually two for 3DS and two for Wii U) rotate in and out of the Rewards program for players to exchange their coins for. Simply cash them in and get to downloading, it's that simple.
There's also a more static collection of physical and digital goods you can get for your Coins, including stuff like screen savers, pencil bags, postcards, etc.
At the end of the year, Club Nintendo participants who purchased enough content to reach either a Silver, Gold or Platinum level will also receive access to an additional set of free games and/or physical goods as an added "thank you" from Nintendo. Like the monthly offerings, those bonus goodies are often a mixed bag, too.
So there you have it. Buy Nintendo stuff, register it, download games. That is, of course, assuming there's anything you actually want to download. As for me this month, there is not.
Staff Writer for CinemaBlend.
Your Daily Blend of Entertainment News
Thank you for signing up to CinemaBlend. You will receive a verification email shortly.
There was a problem. Please refresh the page and try again.