Conan O'Brien Reviews Super Smash Bros. For Wii U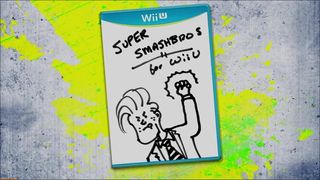 It's not out yet, it's not here, it's not finished and Nintendo is still adding content to the game in preparation for the holiday launch this year, exclusively for the Wii U, yet somehow Conan O'Brien managed to get his hands on the game for a review. Lucky him.
On the latest episode of Conan's Clueless Gamer, the late night talk show host put in some time with one of the games that's expected to skyrocket sales for the Wii U right into the stratosphere... Super Smash Bros.
The video is pretty hilarious and shows just how easy and how hard it is for newcomers to get into the Smash Bros., game. While the button combinations seem easy enough in the one-on-one bouts, you begin to see how difficult and chaotic things become when four player step into the fray.
Funnily enough, anyone looking to get into Super Smash Bros. would really do themselves a favor by doing one-on-one bouts before trying to Royal Rumble their way through the four-way battles.
Of course, none of that really matters when your job is to simply entertain, and that's primarily what Conan does in this latest episode of the Clueless Gamer.
He constantly peppers the staff with questions about the game and then juxtaposes that with knowledge about the history of U.S. Presidents, only for his cohorts to fail miserably on live television. Fail... so much epic fail. By the way, the second POTUS was John Adams... anyone with a cell phone and access to the Whitehouse.gov website could have guessed it (I guess in the heat of the moment it was the one time you couldn't find someone neck-deep in their handheld device). It also seems like John Adams is talked about almost as much as George Washington, so not knowing about the guy is a little saddening. That's not to mention that the guy just had a rather recent and popular HBO mini-series starring Paul Giamatti... so um, yeah.
Anyway, Super Smash Bros. looked good on the Clueless Gamer, with Nintendo managing to overcome the biggest hurdle for games that aren't finished: locking up mid-game. There were no glitches, no hang-ups, no black screens and no hardware failure. Well played, Nintendo.
This also follows shortly on the heels of some mega-hype that the Big 'N' generated ever-so-recently when they held an invitational only Smash Bros., tournament live at E3 this year. The huge event saw an auditorium full of gamers coming out in support of Nintendo to showcase brand new characters and content for the upcoming game. It was also an event that saw Mega Man steal a lot of the show, and gamers literally jumped out of their seats every time the little blue bomber pulled off special moves or used his Smash Attack.
Even though Super Smash Bros. looks like it's done and finished, it's actually far from it. The game won't appear on store shelves until this holiday season. Even still, it's never too early to pick up a Wii U, and Nintendo seems to have given gamers plenty of reasons to do so... one of which includes an excellent showing during Conan's Clueless Gamer segment.
Staff Writer at CinemaBlend.
Your Daily Blend of Entertainment News
Thank you for signing up to CinemaBlend. You will receive a verification email shortly.
There was a problem. Please refresh the page and try again.