Corpse Party Western 3DS Release May Have Just Been Leaked By ESRB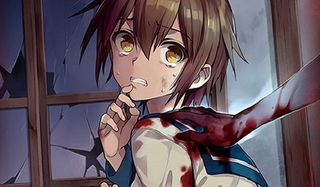 Horror fans gaming on Nintendo's handheld console might soon have a new reason to boot up their 3DS on dark, stormy nights as an ESRB rating makes it look like the original Corpse Party could be coming West.
According to a recent post on Gematsu, it looks like XSEED Games could be bringing yet another Corpse Party game to North America. The ESRB recently posted a new rating for Corpse Party on the 3DS, rating the game Mature for blood, strong language, suggestive themes and violence.
As the rating summary points out, Corpse Party is a survival horror game that features high school students dying in rather violent fashion. Whoever said ghosts can't hurt you clearly never played a Corpse Party game.
The original Corpse Party actually launched last July in Japan for the 3DS, bearing a decidedly more convoluted name, Corpse Party: BloodCovered…Repeated Fear. A version of this game had previously launched on iOS and the PlayStation Portable in Japan, which was in turn a remake of a game from 1996.
For those of you who feel like the name Corpse Party is ringing a few bells, it's because the series has already found a home here in the states on PlayStation consoles. The PSP original is also playable on the Vita, which is where the two sequels, Book of Shadows and Blood Drive, are also available.
The original Corpse Party follows a group of high school students who have the brilliant idea of performing a questionable ritual while at school late one night. They're quickly sucked into a nightmare realm where horrible, horrible things wait around every corner. The twisted world is known as Heavenly Host Elementary School, a sort of purgatory for youngsters and maniacs alike who died on the school grounds.
The original Corpse Party was an action adventure game, with players exploring the campus from a top-down view, solving light puzzles and doing their best to avoid the vengeful spirits. Get one of the game's many wrong ends and you were "treated" to a grisly soundscape and description of the character's demise.
Corpse Party: Book of Shadows was a sort of retelling of the original story with some additional tidbits thrown in to give more background. This game was more of a visual novel, with first-person exploration sequences complemented by lots and lots of narrative.
Finally, Corpse Party: Blood Drive hit the US last fall and was a full-on sequel to the original game, sucking surviving characters from the original tale into a new nightmare.
If this new ESRB rating is to be believed, 3DS players could be in store for the first (and my favorite of the lot) journey to Heavenly Host, complete with some new chapters and extra bonuses for good measure.
Staff Writer for CinemaBlend.
Your Daily Blend of Entertainment News
Thank you for signing up to CinemaBlend. You will receive a verification email shortly.
There was a problem. Please refresh the page and try again.