Corsair 350D Micro-ATX Case Announced, Good For Steam Box Builds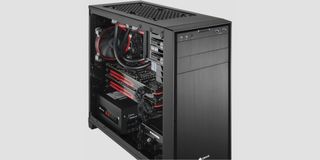 Corsair has announced that they have a pigmy tower PC case for micro ATX motherboard and mini ITX motherboards. The case allows for two full length graphics cards, so you can either SLI or X-Fire up your system, and it allows for dual 3.5" HDDs or twin 2.5" SSDs, two USB 3.0 slots and audio jacks.
Five expansion slots, five fan mounting slots and amazingly room for two 240mm radiators for those of you planning on running a nuclear power plant out of your Obsidian Micro-ATX case.
Thi La, Senior VP & GM of Memory and Enthusiast Component Products at Corsair commented about the Obsidian 350D case saying...
Smaller living spaces you say? Perhaps...a living room gaming solution? Maybe...good for gaming on your TV from a small home entertainment section? Could it be...this might be a nice little micro-case for those looking to build a Steam Box? Maybe.
The case is small enough to squeeze in tight spaces, but has just enough room inside for a capable power supply, large GPUs and enough bays to contain HDDs for all your gaming storage needs.
The real question, however, is can it contain the power race horse, big daddy card that just stepped onto the market...the AMD Radeon HD 7990 Malta? If you can squeeze one of those bad boys in the Obsidian 350D Micro-ATX case, then it's all good. It'll be like putting a 440 Hemi in a 1950s Corvette. A lot muscle in a small package.
The Corsair Obsidian 350D Micro-ATX case is scheduled to release on May 1st for only $99, so it's certainly not carrying the BMW Gaming Case prices. That's a pretty good deal and you can check out the rest of the specs over on the official Corsair website.
Your Daily Blend of Entertainment News
Staff Writer at CinemaBlend.