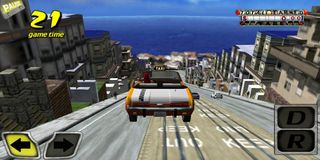 Sega has released the Dreamcast classic Crazy Taxi on Android devices today. The frantic cab racing game can be downloaded to tablets or smartphones through the Google Play Store for $4.99, £2.99, or €4.49.
Your objective in Crazy Taxi is to pick up passengers and bring them to their destination. However, unlike most cab drivers, you don't care about your passengers' comfort or safety. Your objective is to complete the trip as quickly as possible and complete as many stunts as you can. You'll make huge jumps, take shortcuts through parking garages and speed through traffic. If you don't complete the trip on time, though, you won't get any money.
The Android version features remastered visuals. The soundtrack is still the same, though, so I hope you like Bad Religion and The Offspring. If not, you can fortunately just use whatever music you already have on your device.
Players can choose from 3, 5, or 10 minute game sessions. In Arcade mode, they'll start with one minute of time and then try to prolong their session by racking up speed bonuses. A set of 16 minigames will allow players to go bowling or pop balloons, among other things.
The game is playable with either touch or tilt controls. However, if you're looking for a bit more precision in your driving, you can also replicate the console experience by using a controller. Power A Moga, the Xbox gamepad, and all HID controllers are supported.
Crazy Taxi hit the iOS last fall. Android gamers have had to keep themselves occupied in the meantime by playing semi-clones like "Taxi Gone Crazy" and "Crazy Taxi HD FREE." I imagine those games will still get some players anyway, though, considering the fact that they're free.
Though Crazy Taxi is only available through the Google Play Store at the moment, Sega says the game will hit the Amazon App Store and Samsung Apps later in the week.
Image 1 of 4
Image 2 of 4
Image 3 of 4
Image 4 of 4
Staff Writer at CinemaBlend.
Your Daily Blend of Entertainment News
Thank you for signing up to CinemaBlend. You will receive a verification email shortly.
There was a problem. Please refresh the page and try again.