Dead Island Epidemic Is Shutting Down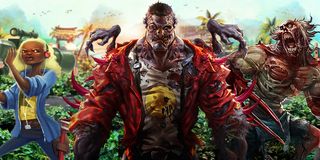 Dead Island Epidemic won't be leaving open beta. The zombie franchise's MOBA spin-off is shutting down in a matter of weeks, the developer announced today.
The Steam announcement didn't divulge the reasons behind the shutdown. Instead, it merely provided the shutdown date:
The low player population for Dead Island: Epidemic was likely the reason why it's being shuttered. Steam Charts shows that the game peaked at the launch of open beta in December 2014 with an average of 2,000 players at any given time and a peak of just over 6,000. There's been a steep drop-off since then, though. The game now averages around 233 players, with a peak of only 484 in the past month:
I don't know what kind of population the game needed in order to stay profitable, but 233 is damn sure below that mark. With the population low and continuing to decline, the developers decided it was no longer worth supporting.
In Epidemic, players team up to survive the zombie apocalypse. In a co-op Crossroads mode, four players must complete missions while fending off the undead. In Scavenger mode, three teams compete to gather supplies and hold key locations. Players could choose from a range of different characters with varying skills and playstyles. By collecting blueprints and weapon mods, they were able to craft an arsenal that fit their personal taste.
The MOBA genre is still as competitive as ever, though. There are now three huge games in that genre - League of Legends, Dota 2 and Heroes of the Storm - with highly dedicated player bases. The communities around those games have invested tons of time and money into them. It's tough for a new game to convince those players to defect.
Publisher Deep Silver probably figured the brand recognition from the Dead Island name would help Epidemic's chances. However, a brand name isn't enough. Infinite Crisis, a game backed by the enormous DC Comics license, failed in the attempt as well. A recognizable brand might get some curious fans to check out the game but unless you can convince them that your game is much better than its entrenched competitors, they're not going to stay.
It's been a rough twelve months for the Dead Island franchise. Adventure game spin-off Escape Dead Island launched in November 2014 to horrible reviews. Dead Island 2, meanwhile, was delayed to 2016 and switched developers.
Staff Writer at CinemaBlend.
Your Daily Blend of Entertainment News
Thank you for signing up to CinemaBlend. You will receive a verification email shortly.
There was a problem. Please refresh the page and try again.