This New Device Will Let You 'Feel' Your Game In A Whole New Way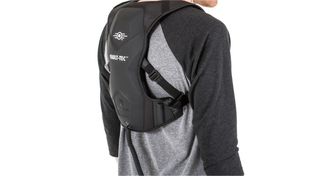 Bethesda is working with peripheral manufacturer Subpac on two new Fallout-themed gaming devices. What are they? They are tactile vibration feedback vests. Essentially, you will be able to feel the impact of games, literally. The two devices work in very much the same way, but are designed for different gaming setups.
Game Informer rolled out the details on Subpac's Fallout-themed vests and backrests. The company is known for making audio-response equipment based on audio/visual input. In other words, they make physical accessories that respond to what's happening on the screen. Thus, it's a perfect marriage between gaming and real-life vibrations sending feedback to the player.
The article notes that the two devices were tested with games like Just Cause 3 where every explosion, impact, bullet and crash sent a low-frequency, bass vibration to the player. Think of it as force feedback for your body instead of your hands. The first of Subpac's devices consists of a vest you strap on that receives input from the game with a receiver, and outputs a tactile vibration based on what's happening on screen. I can only imagine how a vest like this would feel playing Gears of War or Grand Theft Auto V.
The second device from Subpac is a bass enhancer you strap to the back of your chair. The wearer receives the vibration based on sitting in the chair, which could vary from person to person as to how they receive the feedback based on how far back they actually sit. If you're used to leaning forward when things get hot and heavy, it's likely you'll miss all the vibration action.
Bethesda has teamed with Subpac to make two Fallout branded editions of the device with Vault-Tec logos on them. At the moment, you can grab the seat version of the device from Subpac for $379.99.
The Subpac S2 features a 5hz through 130hz response using a wired 3.5mm stereo input or a wireless Bluetooth 4.0 input with A2DP streaming. You can connect headphones to the device with a 3.5mm output. If you plan on using the wireless version, you'll need to make use of the rechargeable 10.8v 2300mAh 3-cell Li-ion battery. In constant use and fully charged, gamers will get six good hours of usage out of the Subpac S2 before it has to recharge. It does come with a charger so you won't have to worry about buying it separately. The whole thing weighs in at around 4 pounds.
We've seen devices like this come out before... usually they launch and then fizzle and fade into obscurity. Devices like AmBX have come and gone and there have been various other wearables with tactile, force and vibration feedback released throughout the years. However, with Bethesda Software getting behind Subpac with branded property based on Fallout, it's going to be hard to deny the importance of this device on the market as VR really takes off with gaming and virtual reality enthusiasts. The Oculus Rift, HTC Vive and PS VR are all releasing this year, so having accompanying devices to help immerse users into the experience only makes sense.
The current iteration of the Subpac S2 is available right now over on the official Subpac website. According to the Game Informer article, the Fallout-themed devices will be made available from Bethesda's online webstore at the end of January.
Your Daily Blend of Entertainment News
Staff Writer at CinemaBlend.