Diablo 3 Beta Ending On May 1st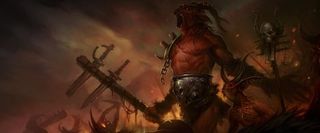 Enjoy your free taste of Diablo 3 while you can, beta testers. Blizzard announced today that they'll be shutting down the test servers on May 1st as they prepare for the game's launch.
D3's closed beta began in September of last year. Blizzard has been inviting additional players in waves ever since then. They sent out 275,000 invites last week.
The D3 beta allows players to try out a portion of the game's first Act. The test culminates with a battle against the Skeleton King. It's only about an hour and a half worth of content, but you can play it with friends and all five player classes can be used. You can find out more about it by reading our hands-on impressions.
Once the servers go down on May 1st, Blizzard will wipe all beta accounts and their associated characters. The official D3 forums will still be available, but in order to comment you need to have pre-purchased D3, subscribe to World of Warcraft, or own StarCraft 2.
May 1st also marks another important deadline for D3. That's the last day that you can sign up for a World of Warcraft Annual Pass. The Pass, a twelve-month commitment to WoW, provides you with a free copy of D3 among other perks.
D3 will launch worldwide on May 15th.
Staff Writer at CinemaBlend.
Your Daily Blend of Entertainment News
Thank you for signing up to CinemaBlend. You will receive a verification email shortly.
There was a problem. Please refresh the page and try again.