Divergent Novel Becoming Video Game?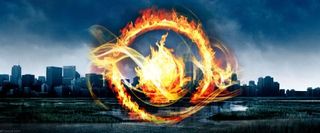 The New York Times best-selling novel Divergent may be turned into a video game. Summit Entertainment, the company producing a film based on the novel, has filed a trademark to create games based on the series.
trademark filing, made on January 1st, applies to "computer games, namely, computer game cartridges, cassettes, tapes, discs, programs and software" as well as "electronic games downloadable via the internet and mobile devices." A wide range of other merchandise is also mentioned, including backpacks, sunglasses and mobile phone skins. Summit seems to think they've got a major franchise on their hands.
Divergent takes place in a post-apocalyptic Chicago. Society is now organized into five factions with radically different values. The book stars Beatrice "Tris" Prior, a teenager who finds she doesn't quite belong with any of the factions. The young adult target demographic and dystopian premise has drawn a lot of comparisons to Hunger Games.
Summit Entertainment also filed a trademark for creating merchandise around the novel's sequel, Insurgent. That trademark includes video games. Presumably they'll file another mark for the third novel after its title is announced.
A trademark doesn't necessarily mean that a video game is in development. They might just be trying to prevent other companies from doing the same. Still, the possibility is there.
The film based on Divergent will supposedly enter pre-production within the next few months. Any games inspired by the novel would presumably be released in close proximity so as to maximize cross-promotion.
Staff Writer at CinemaBlend.
Your Daily Blend of Entertainment News
Thank you for signing up to CinemaBlend. You will receive a verification email shortly.
There was a problem. Please refresh the page and try again.