Doritos And Mountain Dew Giving Away Thousands Of Xbox One Consoles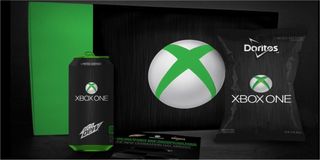 You asked and the Dorito Pope answered. Microsoft will deliver unto thee a holy branded Xbox One with official support from Mountain Dew and Doritos. If you feel you would like to be part of the divine trinity of gaming piety, feel free to participate in the giveaway right now.
Major Nelson dropped the news on his website, letting everyone know that the contest is now open and it's easy to participate, writing...
It's easy to enter, simply head to Major Nelson's website and drop a comment on what Xbox One game you were most impressed with and bam, you're entered!
Gamers flooded in to participate, noting their enthusiasm with comments saying...
The Pope also dropped by to offer his support, saying...
Of course, some users were concerned about the policies, so before entering the contest one user wanted to ask a very serious question about the regulations of the contest, putting forth the query...
An answer was provided, noting that there's an easy solution for people who want to share their corn chips with other people, it's called Fritos.
This was followed up by another question by another user who also placed concern and worry over authenticating his Dew, asking...
Good questions...good questions.
There are more than 2,100 comments already submitted and they're filling up fast. Right now the most popular comment to post is asking for a used copy of Metal Gear Solid V for the PS4. I'm not sure how Microsoft will be able to pick a winner from such a vast pool of excited gamers for the Sony PlayStation 4 and a used copy of Metal Gear Solid V. I should also add that MGS is from the Japanese based publisher Konami, a studio based in a region where the Xbox One will not be sold. Poor Hideo won't be able to play his own game on the XB1...oh well.
But enough with the pleasantries. We should part ways this day with the Reviewer's prayer...you can recite it along with the Pope to ensure a blessed and hallowed gaming experience, just the way the Dorito Pope likes it.
Your Daily Blend of Entertainment News
Staff Writer at CinemaBlend.