Dota 2 Diretide 2013 Announced Following Gamer Protests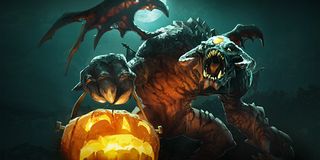 Valve has announced that they're working on a 2013 edition of Diretide, the Halloween-themed Dota 2 event. They made the decision following a whole lot of kicking and screaming from fans.
After receiving a Diretide event last fall, players had expecting a new one this year. When they found out Valve wasn't planning one, they embarked on a massive protest. For example, they posted a steady stream of "? ? ?_? ?? Give DIRETIDE" on the Facebook pages of Barack Obama and Volvo. The car company responded to the spam in a really charming way:
A player also created a Steam Workshop item called "GIVE DIRETIDE TO IO." The item received over ten thousand votes from other players. It doesn't seem to be on the Workshop anymore, but was apparently one of the highest rated submissions ever.
Still, like every Internet protest, it got a little out of control at times. For example, prominent Dota 2 community member Matthew "Cyborgmatt" Bailey says he was harassed over the phone after his number was leaked:
Though some Dota 2 players went a bit too far, Valve didn't talk about that much in their new blog post. Instead, they explained why they didn't plan a Diretide event - a decision that they now characterize as a "mistake."
"We have a huge update in the works that looked like it would be finished in time for Halloween. Stopping that update to work on Diretide seemed like something you would actually be unhappy with us for, because the update is pretty significant," Valve said. They added that they underestimated fans' desire for another Diretide and got too busy with the update to evaluate whether they should've in fact released the Halloween event.
The company went on to apologize for not explaining the decision earlier. After the "Give Diretide" protests began, they felt that an official announcement that Diretide wasn't coming would've just poured gasoline on the fire. They were also confident that the next update would soothe any hurt feelings. Still, Valve admits that this lack of communication simply "compounded the problem."
Valve now plans to roll Diretide into the next update, which should be coming out soon.
"The rest of the update we've been working on is in final testing, and as each of us finish up our work on it, we've been jumping over to Diretide. We're pretty sure the update that we've been working on for a couple of months is going to be pretty significant. In addition, we've made a few changes to Diretide that we think makes it more fun than before. And while we always want the community to tell us exactly how we're doing, this is probably a good time to stop cc'ing innocent car manufacturers with your messages."
Your Daily Blend of Entertainment News
Staff Writer at CinemaBlend.