Dreadlocks' New Kickstarter Game Makes Ghost Hunting A Terrifying Reality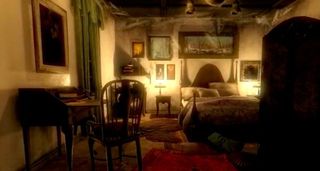 Have you ever wanted to investigate a real haunted location, but live too far away or you're too chicken to try? New horror game from Dreadlocks, called Ghost Theory, will give you just that opportunity—only from the comfort of your computer chair.
First-person, atmospheric horror games are scary enough, but Ghost Theory will give you the unique opportunity to explore places in real life that have been reported as haunted. We're talking haunted locations from around the world ranging from castles and churches to asylums and graveyards. Surprisingly enough, Dreadlocks will even be including private properties like houses.
In Ghost Theory, you play as paranormal investigator, Barbara, and she's one of the lucky few who have been gifted with the ability to speak to the dead. You will travel around the world to work as part of a university research team to solve paranormal cases. And the developers make sure to point out this isn't anything like Ghostbusters or your run-of-the-mill survival horror game. Just like in popular paranormal shows like Ghost Hunters and Ghost Adventures, you will be given real-life ghost hunting tools like an EMF detector and high-end sound recorder. And solving cases will help you upgrade your equipment, too. You can watch the full campaign trailer below.
I like this idea because it's something that's really never been done before. There is so much research and background and story going into this game, it's almost like looking at my 12-year-old self when I used to keep my own files on all of the haunted places in the country (vowing to visit them all one day). And that is an act of passion. And when passion goes into a video game, it turns into an experience unlike any other.
Right now, Ghost Theory has raised $14,740 of its $141,439 goal with 18 days to go. I really hope this game can make its goal because it's something every obsessive horror fan like myself would love to get their hands on. And if the game eventually does get to release on the Oculus Rift, it will be a totally horrifying and unique VR experience that would literally make me go out and buy a Rift headset. But, the game has to get funded first. If you want to back the game, you can do so by visiting their Kickstarter page. The game hopes to ship in September of 2017.