Download Shadow Complex PC Version For Free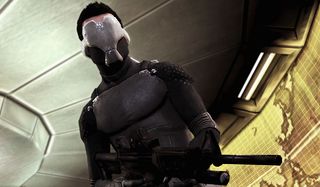 Epic Games and Chair Entertainment have remastered their Metroidvania Shadow Complex as expected. In a surprise twist, though, they're giving it away for free for a limited time.
In Shadow Complex, Jason Flemming must rescue his girlfriend from a mysterious underground base filled with hostile soldiers. The story, set in the same world as Orson Scott Card novel Empire, was penned by long-time The Incredible Hulk writer Peter David. As Flemming fights his way through the complex, he'll gain weapons and abilities that allows him to access new parts of the facility. He'll also learn more about the plans of the mysterious army he's fighting.
The game initially launched on Xbox 360 in 2009 to rave reviews. It was also one of the best-selling Xbox Live Arcade games at the time. Presumably some kind of exclusivity deal between Epic Games and Microsoft prevented other ports in the years since then.
Chair and Epic built Shadow Complex: Remastered for PS4, Xbox One and PC. They say that Remastered was built in Unreal Engine 4 so the visuals are a step-up from the original version. Players will have new achievements and master challenges to pursue through the updated game. They'll also get access to new takedown moves.
The PC version of Shadow Complex: Remastered can be downloaded for free now as a holiday gift. You have to download the 91MB Epic Games launcher and create a free Epic account if you don't already have one. It's annoying to have yet another digital games launcher on my computer but, hey, free game. Here are the system requirements in case you want to play it:
Minimum
OS: Windows 7 and up
CPU: Intel Core 2 Duo/AMD Athlon 2x2
System RAM: 2 GB
Video Card: Nvidia GeForce 7800 (512mb) / AMD Radeon HD 4600 (512mb)/Intel HD 4000
DirectX 9.0c
Recommended
CPU: Intel i5/AMD A4
System RAM: 4 GB
Video Card: Nvidia GT 540 1GB/AMD 5550 1GB
DirectX 11
The game will officially go on sale for PC and consoles in 2016. No word on pricing just yet.
Staff Writer at CinemaBlend.
Your Daily Blend of Entertainment News
Thank you for signing up to CinemaBlend. You will receive a verification email shortly.
There was a problem. Please refresh the page and try again.