Elder Scrolls Online Pre-Order Gives You Free Assassin's Creed 4 Or Assassin's Creed 3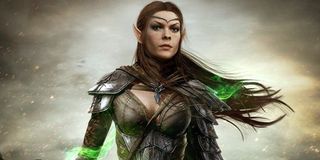 Ubisoft really wants you to pre-order Elder Scrolls Online through their Uplay store. They're willing to give you Assassin's Creed 4: Black Flag or Assassin's Creed 3 for free if you do.
Assassin's Creed 3 is set during the American Revolution. Connor Kenway will hunt Templars through America's cities and frontier wilderness. He'll also take to the sea to fight them in ship battles. Assassin's Creed 4 stars Kenway's grandfather, a buccaneer living in the Golden Age of Piracy. AC4 expands on the ship battles of its predecessor and allows players to freely explore the Caribbean.
The freebie you receive depends on what edition of ESO you pre-order. The Digital Imperial Edition, the more expensive bundle, comes with AC4. The Digital Standard Edition gives you access to the older game.
The $59.99 Digital Standard Edition offers a few other perks to players who pre-purchase. You'll get early access to the game starting on April 1st, three days before the official launch. The included Explorer Pack gives you a non-combat pet called the Scuttler, four treasure maps, and the ability to play as any race no matter which alliance you choose.
ESO's $79.99 Digital Imperial Edition, announced yesterday, unlocks the Imperial race. You'll also be get a White Imperial Horse and Mudcrab Vanity Pet to accompany you on your travels. The Rings of Mara allow you and a friend to gain extra experience points when questing together. All of the perks of the Digital Standard package are also included, except that Imperial Edition owners get an additional two days of early access.
If you're not interested in getting a free Assassin's Creed game, note that boxed copies of ESO will also be available through retailers. The physical version of the Imperial Edition is $20 more than its digital counterpart but also has a 12" Molag Bal statue, 224-page guidebook and world map. The $59.99 boxed Standard Edition has everything included in the downloadable version.
It's surprising to see Ubisoft throwing Assassin's Creed 4 around as a freebie for another publisher's game even if it's just the PC version. To be fair, though, the game will be about six months old by the time that ESO is in stores. Ubisoft may have announced Assassin's Creed 5 by that time, too. I suppose Ubisoft thinks that AC4 on PC will do them more good in driving sales to their own store than as a standalone purchase. The logic isn't terrible.
Elder Scrolls Online will launch on PC and Mac on April 4th. The Xbox One and PS4 release is slated for June.
Staff Writer at CinemaBlend.
Your Daily Blend of Entertainment News
Thank you for signing up to CinemaBlend. You will receive a verification email shortly.
There was a problem. Please refresh the page and try again.