Fallout 1, Fallout 2, Fallout Tactics Removed From Steam But Will Return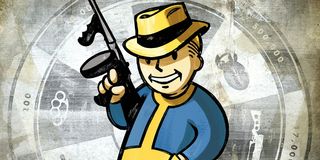 The first three games in the Fallout series have disappeared from Steam. Bethesda says that they're working to bring the game back to Steam and other outlets.
Fallout, Fallout 2, and Fallout Tactics were removed from GOG.com two days ago as well. The games were taken down because the rights to publish them have transitioned from Interplay to Bethesda. Bethesda said on Twitter that they're currently removing information on Interplay, such as the legal fineprint, from the three games.
The company added that returning the games to Steam is their first priority, presumably because it's the largest digital store. It's estimated that Steam accounts for about 75% of digital PC game sales. Bethesda didn't commit to bringing the classic Fallout games back to other stores but they say it's a possibility.
Fortunately, the games' removal from Steam and GOG doesn't affect current owners - even if you got it for free during GOG's eleventh-hour giveaway. The only people being inconvenienced here are the ones looking to buy new copies. If you've already got these titles in your library ,you should be able to download and play them without any issues.
Fallout and Fallout 2 follow the same blueprint. The player traverses a post-apocalyptic United States on a quest to save their home. While pursuing their main objective, they'll also pick up side quests from numerous factions throughout the wasteland. They'll also recruit a colorful group of companions, including a robot and a ghoul. Quests can be completed through combat, stealth and diplomacy. The combat is turn-based, with players using action points to move or attack.
Fallout Tactics is less of an RPG and more of a strategy game. While there are some hubs to explore, the game's much more linear and focused on combat. The plot is a dramatic change from the first two games, too. The player heads up a splinter group of the Brotherhood of Steel near the ruins of Chicago. The Brotherhood in Chicago is mentioned off-handedly in Fallout 3 but the plot of Tactics isn't considered canon.
If you haven't played the classic Fallout chapters, I'd strongly recommend checking them out when they return to digital stores. All three are worth playing and should give you about 20 hours of entertainment apiece. Most importantly, they're a great distraction while you wait for Bethesda to finally announce Fallout 4.
Staff Writer at CinemaBlend.
Your Daily Blend of Entertainment News
Thank you for signing up to CinemaBlend. You will receive a verification email shortly.
There was a problem. Please refresh the page and try again.