Fallout, Fallout 2, Fallout Tactics Are Now Free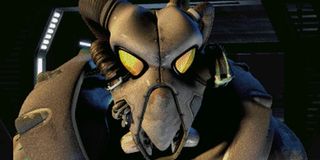 GOG.com is kicking off their 2013 Winter Sale (opens in new tab) with very impressive freebies. They're offering DRM-free PC/Mac copies of Fallout 1, Fallout 2 and Fallout Tactics for free for the next two days.
"As the rights for this celebrated franchise are changing hands at the end of the year, GOG.com will no longer be able to sell the titles, although they will remain on users' shelves if they already own them," the retailer explains.
Interplay, the company that published the first three Fallout games, currently owns the rights to sell the classic trio. However, they're losing those rights to Bethesda on January 1st. The franchise has been slowly transitioning over to Bethesda's control ever since they bought the single-player rights from Interplay in 2007. They purchased the MMO rights in January 2012 for $2 million following a long legal dispute.
In the first Fallout, the player is a man or woman who grew up in an underground vault. The vault sheltered them from a nuclear war as well as the subsequent radiation. However, the vault's water system fails and the player is sent out into the world to find a replacement part. They encounter ghouls, bandits, and super mutants in their journey across the post-apocalyptic Southwestern United States. The combat is turn-based, with players able to target specific enemy body parts to cause different effects.
Fallout 2, set 80 years later, was essentially the same game. This time around, though, the player was a primitive villager in search of a Garden of Eden Creation Kit to revitalize the wasteland. While it's not a huge improvement over its predecessor, it's still worth playing because of the new story.
Fallout Tactics was probably the least popular game in the series. It tells a non-canon story about Brotherhood of Steel forces fighting various threats in the Midwest. It's more linear and focused on strategy than its predecessor. The campaign is essentially a series of battles broken up by visits to the Brotherhood bunker rather than a free-roaming adventure across the wasteland.
While you'll like some of the games more than others, they're all worth downloading. I mean, shit, they're free (opens in new tab). As long as you've got a few gigs to spare, why not?
The 2013 Winter Sale at GOG.com will continue until December 29th. The retailer will be marking down over 600 games by 50% for the duration of the sale. Additionally, there will be numerous daily discounts. YouTube personalities will announce 75% discounts on select games. Gamers will also be able to vote on a new 80% off bundle. GOG is giving all registered users "Mystery Boxes" containing discounts and occasional free games on a daily basis.
In advance of the Winter Sale, GOG announced that they now offer 30-day refunds for their games. If you can't resolve an issue that's keeping you from playing, they'll give you your money back.
This is the second day of good news in a row for Fallout fans. Yesterday the first story details for Fallout 4 were leaked.
Staff Writer at CinemaBlend.
Your Daily Blend of Entertainment News
Thank you for signing up to CinemaBlend. You will receive a verification email shortly.
There was a problem. Please refresh the page and try again.