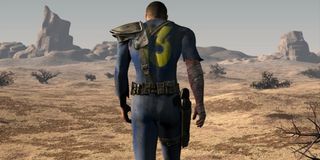 If you wanted DRM-free copies of the early Fallout games, you just missed your chance. GOG.com has removed Fallout, Fallout 2 and Fallout Tactics from their catalog.
The digital store said in a new blog post (opens in new tab) that they removed the game because of "circumstances beyond their control."
"These classic titles have been with us since day one, that is for over 5 years now, and they were always one of the highlights of the selection of games that we offer. There are very few titles in the history of computer role-playing games, that have had so much impact on the gaming landscape, players' expectations, and even the popular culture. The iconic setting, the memorable quotes, and unparalleled amount of fun and challenge these games provide--it's all burned in the memory of a whole generation of gamers. Probably even more than just one generation. It was an honor to have you here, Fallout.
"Take good care of yourself out there, try not to mistake a gecko for G.E.C.K. (not even remotely the same thing!), and remember to take your Rad-X pills!"
These three Fallout games were part of GOG's catalog since the store's beta in 2008. I suspect that they were some of the store's best-sellers, too. So, what happened?
GOG said earlier this month that the rights to the games were changing hands. Interplay, the publisher of the first three Fallout games, was selling them through GOG for the past few years. However, Fallout 3 creators Bethesda will acquire the rights on January 1st. The hand-off was part of the two companies' out-of-court settlement for the Fallout Online lawsuit in 2012. Bethesda bought the MMO rights to Fallout in that same settlement.
It's possible that Bethesda will add the Fallout titles back to GOG's catalog. If that was the case, wouldn't they hammer out an agreement with GOG in advance to prevent the games from being removed? We've reached out to Bethesda to get more information on their plans and will let you know what we hear. It could take a couple days to get a response due to the holiday, though.
GOG gave the three games away for free for two days in early December. If you grabbed the freebie or bought the games at any other time, you'll still be able to download the game and its extras. The gift codes from the free giveaway are no longer valid. If you actually bought the gift codes, though, they can be used.
"We sincerely apologize for all the inconvenience this situation may have caused you. We invite you to browse through 671 other fantastic titles offered in our DRM-free catalog of the best games in history, and we wish you a Happy New Year of gaming!"
Fallout, Fallout 2 and Fallout Tactics are still available through Steam. All three are 75% off, or $2.50 apiece, for the next two days.
Staff Writer at CinemaBlend.
Your Daily Blend of Entertainment News
Thank you for signing up to CinemaBlend. You will receive a verification email shortly.
There was a problem. Please refresh the page and try again.