Final Fantasy XIV: A Realm Reborn Patch Adds Chocobo Training, Personal Quarters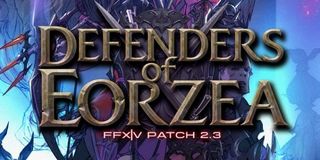 Take up your sword once more, noble warrior, because it's time to once again join the battle to save your home from the forces of evil…while riding a chocobo! Square Enix today announced the official launch of Patch 2.3 for Final Fantasy XIV: A Realm Reborn, "Defenders of Eorzea," offering a metric ton of new content for players to sink their teeth into.
As is typically the case for post-launch patches, the vast majority of today's patch content includes oodles of tweaks to the game, a smattering of new missions and activities for everyone to enjoy, and loads of new content specially made for players who have reached level 50. Most of this stuff won't get your blood pumping too quickly if you're new to the game but, for those who have been questing in Eorzea for a while, there's a lot here to get hyped for.
As any MMORPG fan might have guessed, the patch notes for Defenders of Eorzea are rather massive. All of the latest additions can be found there for those of you who want to do a deep dive, right down to information on every single new item that's being introduced. For those who would prefer a broad strokes approach, however, I live to serve.
Announced several weeks back, we already had a pretty good idea of what this latest patch was going to offer. It looks like the developers have made good on all of those promises, though, as all of the anticipated content appears to be present and accounted for.
While individual housing options are still not in full swing, players in a Free Company can now buy their very own private chambers to enjoy from within their FC house. You have to be level 50 to unlock this ability, unfortunately, but once you do, you can start decorating your personal quarters to your heart's content. That's great and all, but I'm really looking forward to having my own home within the game someday, complete with a garden and a stable for my beloved chocobo, Nugget.
Speaking of chocobos, a training mini-game option has now been added to Free Company homes, too. The FC has to buy a stable and you need to buy your own lodging pass but, once you do, you can begin training your feathered friend in order to up their stats and abilities.
As mentioned above, late game players can expect a whole bunch of new missions scattered across the world map, including some brand new main story adventures and side quests.
A massive 72-player Frontline mode has also been added, allowing players to duke it out in a three-way battle for Grand Company glory.
A hard mode for the Tam-Tara Deepcroft and Stone Vigil dungeons has been added, as well as a brand new outdoor dungeon, Hullbreaker Isle.
Finally, a new hunting mode has been added at your Grand Company desk, allowing players to take on special missions that have them on the lookout for particularly pesky beasts.
Again, that only scratches the surface of what Patch 2.3 has to offer, but those are the key features that caught my eye while scrolling through the list. Whether you're questing on the PC or PlayStation 3/PlayStation 4, fire up the game now and get to downloading all of that fresh content.
Your Daily Blend of Entertainment News
Staff Writer for CinemaBlend.