Five Nights At Freddy's Creator Slams His Critics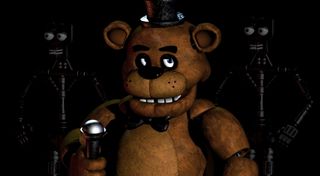 Scott Cawthon has become an overnight success in the world of gaming. His short but very popular horror series Five Nights at Freddy's has made him both popular and a target for abundant amounts of criticism. Well, Cawthon fired back at critics with an interesting post on Steam.
On the community page for Five Nights at Freddy's 4, Cawthon posted a message titled "Make a Difference". In the post, Cawthon states that his success didn't come easy and it wasn't something he took for granted. He writes...
Cawthon explains that he's still human, his games aren't perfect and that there are a lot of valid criticisms about his Five Nights at Freddy's games. However, he does go on to state that criticizing people just because they're successful is a waste of time.
He expresses how it would likely be better for people to spend their time being productive; bashing someone for their success doesn't help you and doesn't help the person being bashed. That's according to Cawthon.
He decided to dispense some advice to people who have asked him for help on their own career, explaining that they should never give up and keep pushing forward. There's no real specific advice but it's the standard John Cena shtick of "never give up" and "reach for your dreams" kind of speech. Cawthon closes out saying...
There's still some success left for the horror-game creator to endure. He's already attached to a film coming out soon based on the Five Nights at Freddy's property, and there are some big surprises in store for gamers who own Five Nights at Freddy's 4 when a new expansion launches this fall.
There have been debates about what else Cawthon might do with the Five Nights at Freddy's property but the last game is titled The Final Chapter, so a lot of gamers expect this could be it for the scary animatronic bear and his murderous friends. We'll see what else comes down the pipeline.
In the meantime, it looks like Cawthon won't be wasting a lot of time with haters and will instead stay focused on the positive things in life.
Staff Writer at CinemaBlend.
Your Daily Blend of Entertainment News
Thank you for signing up to CinemaBlend. You will receive a verification email shortly.
There was a problem. Please refresh the page and try again.