Five Nights At Freddy's 4 Release Date Moved Up To August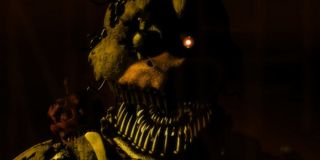 Five Nights at Freddy's 4 won't be launching on Halloween as planned. Creator Scott Cawthon revealed today that the horror game will actually be coming next month instead.
Cawthon announced the new August 8th release date in an email sent out to Razzbowski, 8-Bit Gaming and other FNaF streamers:
It's fitting that Cawthon sent this note out to the folks streaming his game. YouTube has been a huge boon to Five Nights at Freddy's since the first game in the series. Viewers apparently love watching these streamers freak out from the game's jump scares. In May 2015 alone, FNaF videos were watched over 1.273 billion times on YouTube. That's more than every other game franchise other than Minecraft and Grand Theft Auto. These billions of views are essentially free marketing for the series.
The initial Halloween release date for FNaF4 was revealed through a teaser image of animatronic robot Freddy Fazbear. Freddy looks very ragged in the picture with several holes in his body. His body is also covered in smaller Freddy heads with razor-sharp teeth. Later teaser images, seen in the gallery below, showed the other robots in disrepair. This suggests that FNaF4 will be set sometime after the third game in the series.
That teaser image said Five Nights at Freddy's 4 would be the "Final Chapter." It's unclear whether that's actually the case, though. Slasher films, a source of inspiration for FNaF, often market themselves as "final chapters" but end up getting sequels anyway.
Even if Five Nights at Freddy's 4 turns out to be the last game in the series, we'll see more of Fazbear in the future. Cawthon is working with Warner Bros. to create a film based on the franchise.
Image 1 of 4
Your Daily Blend of Entertainment News
Staff Writer at CinemaBlend.