GTA 5's Latest Update Will Stabilize The Game, Says Rockstar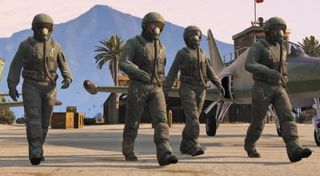 Rockstar Games can't seem to cut a break these days, likely spending their weekends hunched over the computers desperately trying to work on the servers and get them working right and tidy for gamers across old-gen systems and new-gen systems. According to their latest update they'll finally have the game stabilized.
Over on the Rockstar support page there's a very, very, very brief note on the patch update for GTA V on the Xbox One, PS4, PS3 and Xbox 360. Here is the complete note on what they fixed in the latest patch for the seventh gen and eighth gen consoles...
Yep, that's it.... that's what the update patch fixed. It was to "improve stability" and "other minor fixes".
That has got to be one of the most useless patch update notes I've ever read. I'm sorry to say but that describes absolutely nothing. I mean, it's a little like no duh it fixes some stuff. I'm pretty sure that most people who dropped dimes on GTA V or the GTA Online store would probably like a little bit more info than "fixes" stuff.
I mean, could you imagine if you took your car to the shop and the mechanic rolls out a bill and then you ask... "So... uh... what'd you fix?" and the mechanic nonchalantly replies... "Stuff."
I guess I'm used to clicking onto a support page with a patch list of the changelog. Give me the nitty gritty so I know what's what. Of course, they might have fixed some of the glitches and exploits people were using to make extra dough in the game and they didn't want to make it known (as if glitchers, modders and exploiters aren't going to figure it out one way or another?)
Anyway, this fix comes on the heels of complaints about GTA V's online mode being riddled with some bugs and glitches. The opening day online heists were marred by people having a tough time getting into the servers and completing some of the heist quests.
Nevertheless, Rockstar has quickly remedied the problem (or at least, that's what the patch update says).
Gamers have been waiting nearly two years for GTA V's online heists. They finally launched last week to a lot of activity and a huge resurgence of interest in Rockstar's title.
The game has managed to continue to sell like crazy across the Xbox One and PS4 following its release on the Xbox 360 and PS3 a year before. The new-gen version brought about a new first-person mode, new graphics and updated mechanics. The game is expected to become another big seller once more when it drops on PC this spring.
GTA's online heists have also brought about some brand new vehicles in addition to new missions for up to four players to participate in. If you're looking for a little help to get your feet on the ground in the online mode you can check out Gaming Blend's guide right here.
Your Daily Blend of Entertainment News
Staff Writer at CinemaBlend.
Your Daily Blend of Entertainment News
Thank you for signing up to CinemaBlend. You will receive a verification email shortly.
There was a problem. Please refresh the page and try again.