GTA 5 Online Cheaters Are Losing RP, Getting Bans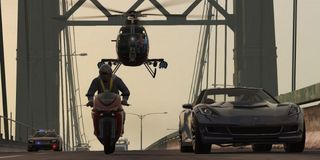 Rockstar Games is taking action against GTA Online players who racked up large amounts of Reputation Points. This week they began punishing anyone who gained this RP through shady methods.
Rockstar did the first round of RP correction on May 20th. Players who used hacks or mods to get RP since GTA Online first launched will find their ill-gotten gains removed from their account. Their Ranks will be rolled back to their "approximate level" before their violation.
That's the only punishment that Rockstar doled out on that day. Those characters' items and GTA$ won't be touched. Their access to the game won't be restricted at all. However, future offenders found through later sweeps will face harsher penalties.
"Accounts found to be hacking or modding to generate illegitimate amounts of RP after 5/20/14 will be subject to further action at our discretion, such as time in the Cheater Pool or Bad Sport Pool. Repeat offenders may also have their accounts reset, experience bans, or have all their GTA$ removed (other than unspent Shark Card funds)," reads a new post on the Rockstar Support site.
You won't be punished if you simply grinded Rooftop Rumble or some other mission to get huge amounts of RP. If you were taking advantage of a bug, you should be okay as well. Rockstar says that only players who used "mods, hacks, DNS redirects, manipulation of cloud files, or other similarly nefarious behavior" will feel their wrath.
Previous anti-cheat efforts by Rockstar focused on players getting free money. They've doled out many bans and removed a lot of this illegitimate cash from the game. This is an ongoing battle because players keep finding strange ways to earn mountains of cash.
Cleaning up Reputation Point hacks is just as important, though. RP determines a player's Rank, which in turn determines what items they can buy. Even if a cheater has infinite amounts of money, they still can't buy the best items if their Rank is too low. Removing illegitimate RP from the game minimizes the damage that money cheats can do, in other words. Let's just hope that Rockstar can be successful in identifying all of the cheaters.
Rockstar ended their latest update on GTA Online cheating by asking for help. Players who spot cheaters are encouraged to report the offenders to GTAOnlineBanhammer@rockstargames.com. The emails should include the PSN ID or Gamertag of the players, a description of their deeds, the time and date of their violation and any other evidence.
GTA Online received the free High Life Update earlier this month. The DLC introduced several new luxury items for players to buy, including apartments and sports cars. The next update for the game is expected to bring cooperative heists, a long-awaited feature. Rockstar has yet to make an announcement about that, though.
Staff Writer at CinemaBlend.
Your Daily Blend of Entertainment News
Thank you for signing up to CinemaBlend. You will receive a verification email shortly.
There was a problem. Please refresh the page and try again.