GTA 5 iFruit Patch Released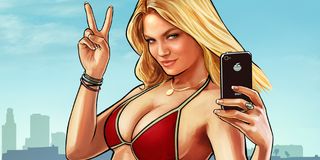 The Grand Theft Auto: iFruit app allows players to keep one foot in GTA V while they're out of the game. Or it would, anyway, if it worked right. Rockstar has released patch 2.0 for the app to hopefully fix its current flaws.
"Addresses connectivity issues. Thank you for your patience and support," reads the brief patch notes from Rockstar (opens in new tab).
I'm curious whether that's all they really fixed. Maybe they've also removed those PC-related assets that we spotted within the app? Either way, the app certainly suffered from connectivity problems so it's great that Rockstar's addressing them.
iFruit acts as a hub for all of your Rockstar Games activities. From there, you can browse the Rockstar Store for merchandise or connect with your crew on Rockstar Social Club. You can also access the iPhone versions of Grand Theft Auto III and GTA: Vice City assuming that you've bought them.
The best part of the app, though, is how it interacts with GTA V. You can browse the parody social network Lifeinvader and earn in-game discounts from Los Santos' various companies. The app links to your Rockstar Social Club account so these discounts will be waiting for you when you log in.
iFruit also allows you to interact with Chop, Franklin's dog in GTA V. You can take Chop on walks, feed him, teach him tricks and even clean up his poop. If you keep his happiness level high, he'll be more responsive in game and find hidden items for you. He'll also perform whatever tricks you taught him through the app. The app also allows you to purchase new collars for him that will show up in-game.
The other major GTA V feature in the app is car customization. Players can log into the Los Santos Custom site and outfit Michael, Trevor and Franklin's cars with cosmetic and performance upgrades. Your newly pimped-out car will be waiting for you when you next log in. If you're already in the game, the mechanic will contact you when your vehicle's ready.
You might want to exercise caution when using the Los Santos Custom feature, though. Currently vehicles have a tendency to disappear in the game. Rockstar is working on a fix for the bug right now but in the meantime, they recommend that you not use garages to save any vehicles. No word yet on when that'll be fixed.
Image 1 of 5
Your Daily Blend of Entertainment News
Staff Writer at CinemaBlend.