Get Free Copy Of Deus Ex: Human Revolution By Donating $1 To Charity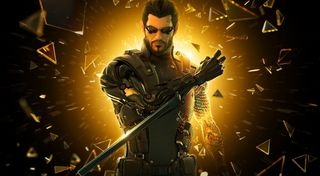 Square Enix is giving gamers an opportunity to get a chance at adding Deus Ex: Human Revolution Director's Cut to their library by donating to charity. How much do you need to donate to charity to get their hands on the Director's Cut? Only $1.
Over on the Game Changer Charity website there's a promotion for Deus Ex: Human Revolution where Square Enix and Game Changer teamed up together so anyone who wants a copy of the game only needs to donate $1 and they'll have an opportunity to add the game to their digital library.
Donors have the choice to pick from a number of different charities to support, so it's not like the money is just going out there into a nebulous void.
Some of the charity options include The Leukemia & Lymphoma Society, Progeria Research Foundation, Miracles for Kids and the Chordoma Foundation.
Over on the website the campaign doesn't spend a lot of time trying to coax anyone into doing anything, but makes it known that the charity drive aligns with the celebration of the 15th anniversary of Deus Ex...
Deus Ex: Human Revolution came out way back in 2011 but the game is still quite popular to this day. The original "Icarus" trailer has been hailed by many as one of the greatest game trailers ever made.
The Deus Ex: Human Revolution Director's Cut came out in 2013 and released on the Xbox 360, PS3, PC and Wii U. The game sported the additional Missing Link DLC pack, along with the New Game+ and the highly praised reworked bosses system. A lot of people complained about the original release of Deus Ex: Human Revolution for having bosses that could only be defeated if you focused on combat as opposed to stealth or hacking.
So with this charity drive gamers will be getting their hands on the more advanced version of Human Revolution and doing so for only $1. This is also the perfect time for gamers who were not familiar with Eidos Montreal's amazing cyber-noir thriller to get in some history with the game before Deus Ex: Mankind Divided launches in 2016 for the Xbox One, PS4 and PC.
Deus Ex: Human Revolution Director's Cut for only $1 is well worth the price if you don't already have it. There's absolutely nothing to lose with giving the game a go and if you don't already have it in your library for whatever reason you can at least give to charity for a good cause and at the same time get a free game in the process.
Your Daily Blend of Entertainment News
Staff Writer at CinemaBlend.