Goat Simulator Heading To Xbox One, Xbox 360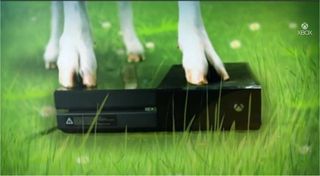 Coffee Stain Studios managed to snag a smash hit in Goat Simulator, a oddball game that started as a joke but became a real thing. Despite being littered with unintentional (and intentional) bugs, Goat Simulator went on to sell a million copies, and now the game is coming to the Xbox One and Xbox 360 this April.
GameSpot tossed up a quick article about the open-world, miscellaneous sandbox game coming to Microsoft's console, along with posting up the following teaser trailer.
The one thing that runs through my mind is "How will this work on the home consoles?"
I mean, the game was designed to be a chaotic, physics-based cluster bomb. There's all sorts of wacky stuff happening that caused a lot of problems when the game first launched. Then again, Goat Simulator was reportedly unoptimized. I imagine the devs have been working hard to fix the game up, so it doesn't crash the Xbox 360 and Xbox One... especially the Xbox 360. They'll likely scale back some of the physics properties so it's not so taxing on the hardware.
Here's what Microsoft had to say about the upcoming release of Goat Simulator:
Now if you're asking "What's this game about?" I'm afraid you won't find an satisfactory answer. Why? Because Goat Simulator has no point or purpose. You just run around as a goat and do stuff. Really... you do stuff.
You can earn achievements for doing things... random things, dangerous things, violent things, or even funny things. It's the definition of a sandbox game insofar as it has no rule-sets or restrictions on what you do or how you want to do it. In fact, this was part of what made the game popular in the first place: a bunch of people just wanted to play as a silly goat and do things.
If it sounds even more nihilistic and anarchistic than Minecraft that's because it is.
According to the Gamespot article, the game's Xbox port is being handled by Double Eleven, the studio behind the PlayStation Vita editions of LittleBigPlanet and Limbo. But, they really have their work cut out for them with Goat Simulator.
You can expect to get your hands on a digital copy of Coffee Stain Studios' sandbox game for the Xbox 360 and Xbox One this April.
Staff Writer at CinemaBlend.
Your Daily Blend of Entertainment News
Thank you for signing up to CinemaBlend. You will receive a verification email shortly.
There was a problem. Please refresh the page and try again.