Hitman Cancelled On Xbox One And PS4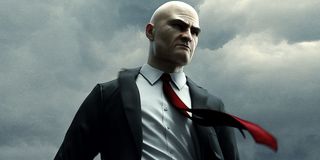 Square Enix Montreal is no longer working on their next-gen and current-gen Hitman game. LinkedIn profiles of the former development team reveal that the assassination game was scuttled sometime in 2013.
The Hitman was never officially revealed so the only details we have on the project are what Videogamer managed to cobble together from LinkedIn. Designer Richard Knight confirmed the cancellation (opens in new tab), while also hinting that the game had a progression system.
Heath Smith's profile (opens in new tab) states that Square Enix was "reimagining" the Hitman series. However, their game would have still featured both first-person and third-person combat.
The juiciest information, however, comes from the LinkedIn page of network engineer Anthony Pressacco (opens in new tab). Pressacco mentions that the game would've had both leaderboards, perhaps indicating a return of the Contracts mode from Hitman: Absolution. He also notes that the game would have microtransactions.
Pressacco's profile further mentions that he's now working on an "unannounced Hitman game" for Android and iOS devices. I guess mobile development is going to be Square Enix Montreal's focus moving forward? He doesn't provide any details on what we can expect from this mobile Hitman title. It's probably similar to Deus Ex: The Fall: a console-like experience adapted to use touchscreen controls on tablets. I doubt it's what series fans are looking for but at least it's something.
Square Enix underwent major upheaval last year. After losing an extraordinary amount of money, the company's president Yoichi Wada stepped down. The publisher also laid off staff at numerous studios. The cancellation of Square Enix Montreal's PC/console Hitman game was just one part of the shake-up.
Hitman's future won't be limited to mobile devices, though. Series creators IO Interactive is developing a AAA Hitman project. The first concept art for the project was released in late 2011. You can see the two images in the gallery below. They don't show Agent 47 but I have a hard time imagining a Hitman game without him.
Image 1 of 2