How Long Is Star Wars: The Old Republic Early Access?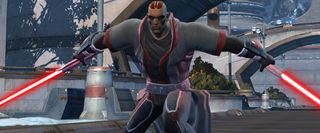 We've known for months that Star Wars: The Old Republic will be granting early access to pre-order customers. Today, though, they've provided some concrete details on how exactly this early period will work.
"Many of you have been wondering how long Early Game Access will last, and we are now happy to announce that depending on when you redeem your Pre-Order Code, you will gain Early Game Access up to five days before the official game launch date," said BioWare in a post on the game's website. "Early Game Access is staggered over five days to ensure a quality experience for players at launch. Staggering access aids server stability and a gradual increase in player population through the game."
Surprisingly, the early access doesn't seem to be determined by which of the three editions you pre-order. Instead, it depends on when you pre-ordered - or, more specifically, when you redeemed your pre-order code at the Code Redemption Center. So yeah, if you've been sitting on your pre-order code without redeeming it, feel free to slap your forehead right now.
The Old Republic will officially launch on Tuesday, December 20th. The nice thing about early access is that you could potentially get the game on the preceding weekend and satisfy your urge for a gaming marathon.
Staff Writer at CinemaBlend.
Your Daily Blend of Entertainment News
Thank you for signing up to CinemaBlend. You will receive a verification email shortly.
There was a problem. Please refresh the page and try again.