MSI GT80 Titan Is The First Gaming Laptop With A Mechanical Keyboard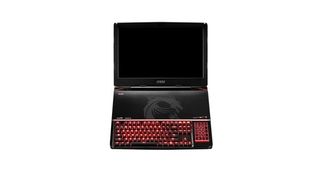 Gaming is evolving. Laptops used to be the expensive, last-resort alternative for gamers looking to play high-end games while on the go. Unfortunately smartphones and tablets still aren't viable solutions for getting in time with titles like Crysis 3 or Metro Redux. So you'll still need a decent laptop to play your top-notch games while you travel or you're away from home. To make the process more enjoyable, less cumbersome, and more mechanically correct is MSI's new GT80 gaming laptop.
The laptop is designed to include the first ever mobile, laptop-embedded mechanical keyboard. For those that don't know, most laptops use soft-padded keys overlaying a rubber mat. The mat, when a key is depressed, hits the appropriate sensor underneath it. The problem is that sometimes the mat can shift, moving keys out of alignment, or the rubber stub will break, rendering a key completely useless.
Mechanical keyboards remedy the rubber-mat conundrum by allowing individual keys to be pressed without worrying about ghosting, matting or the eventual wear-down that other standard laptops or keyboards undergo. I can attest to the functionality and reliance of mechanical keyboards – they definitely outlast the standard ones.
Eric Kuo, VP of global sales and marketing at MSI Notebook, commented about the new gaming laptop, saying...
Oh right, I almost forgot to mention that very much like the Maingear gaming rigs, MSI's latest offerings come fully equipped with Nvidia's latest GTX 980M mobile graphics processing unit. This means that you can enjoy all the latest and greatest games on the highest settings in full, native 1920 x 1080 resolution.
Sam Chern, the marketing director at MSI, also had some words to share about the mobile power-rig that is the GT80 Titan, noting in the press release that...
I don't know if it beats "any" mobile system out there but I imagine that it would rank pretty high on Futuremark's benchmarking charts.
But circling back around to the mechanical keyboard right quick... the system uses the SteelSeries anti-ghosting design to help ensure that every single one of your key presses are recognized and executed as quickly as they're tapped. There's also built-in CloudSync support and low CPU usage, so you'll get the most functionality out of the keyboard without it eating into your gaming experience. There's also configurable profiles for various games, so you can get the most out of each of your favorite game titles and the controls that match each game.
I've always assumed that laptop keyboards just had to naturally suck because of the thin designs and portability factor; however, with MSI unveiling the GT80 with a SteelSeries mechanical attached, I think it's safe to assume that the expectations of a quality experience from laptop gaming just got elevated by a notch.
You can learn more about the MSI GT80 Titan gaming laptop by paying a visit to the official website.
Staff Writer at CinemaBlend.
Your Daily Blend of Entertainment News
Thank you for signing up to CinemaBlend. You will receive a verification email shortly.
There was a problem. Please refresh the page and try again.