Maingear Nomad 17 Gaming Laptops Feature Nvidia's GTX 980M GPU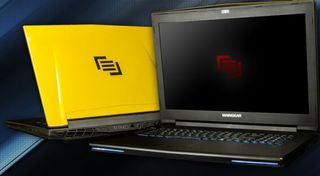 The custom gaming laptops from Maingear, the Nomad 17, have been upgraded to sport Nvidia's mobile GeForce GTX 980M, while the Pulse 15, Pulse 17 and Nomad 15 will feature the GTX 970M.
If that all sounds like a foreign language to you, I'll break it down easy: Nvidia's GTX line of graphics processing units are labeled similar to the size of old-school muscle car engines. If you're a gearhead and you know what a 455ci engine is all about or a 463ci engine, then you can automatically make the same comparison to Nvidia's line of graphics chips. The GTX 970M and 980M series relates to the mobile line of GPUs, and just like the size of the engine block, the higher the number the higher the potential for pumping out bigger and better graphics.
The Nomad 17 will feature Nvidia's latest and greatest mobile line of GPUs, which is the 980M. The Nomad sports a quad-core processor with up to 8 hyper-threads clocked at 4.0ghz. The system comes with 32GB of DDR3-1600mhz memory, as well as a high-speed SSD with the option for supporting other hard drive options. Killer Network's E220 gaming network card will be included, along with USB 2.0 and 3.0 support, along with eSATA, Bluetooth and HDMI-out ports, so if you want to turn this bad boy into a potential Steam Machine... you can.
Wallace Santos, Maingear CEO, commented about the new laptop, saying...
The system also comes in a number of different colors, enabling users to get a customized look and feel for the laptop.
You can see how it looks in action with the promotional YouTube trailer below.
What's more is that the system comes with a built-in 4-in-1 media card reader, a 9-cell Li-Polymer Lithium-Ion batter, and... full HD 1920 x 1080 resolution support (which means it can also output to a TV at full 1080p without skipping a beat) on a 17.3" monitor with a 16:9 aspect ratio and an anti-glare finish.
Essentially, if you're in the mood for some 1080p at 60fps gaming goodness, it's kind of hard to overlook the Nomad 17.
However, with all that goodness comes a pretty hefty price tag. You will pay for the quality of this gaming laptop. You might want to start up a drum-roll. So how much will pay for the Nomad 17 with an embedded Nvidia GTX 980M GPU? Try $2,099 on for size. There are monthly plans in place if you want to try to wing it out over the long haul. Additionally, you can learn more about the other Nomad and Pulse laptops by paying a visit to the official website.
Staff Writer at CinemaBlend.