Maya LT Launches On Steam April 22nd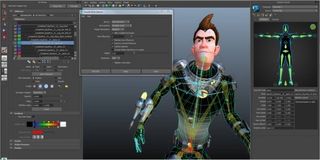 Game designers from big or small studios will be able to gain easy access to the necessary design tools to make the sort of games they've always wanted, without requiring a massive budget or state of the art NASA tech. How will this be possible? Well, Autodesk has announced that Maya LT, a "light" version of the Maya animation and 3D sculpting tools will be made available on Steam Starting April 22nd.
Not only can you model and animate your character, but you can also texture and light your character, enabling you to get everything done from one source without having to import, export or transfer the file from one tool to the next, which is sort of what happens when you make objects in design tools like Zbrush, HDR Light Studio or Composer.
Being able to get everything done in one fell swoop cuts down on both time and money, as you'll only need one tool to bring your characters to life and use them in engines and design environments that support OBJ and FBX formats.
Frank Delise, director and games solution executive at Autodesk commented about the new toolset on Steam, saying...
I think the really sexy news out of all this is the Maya LT license: When you purchase the program from Steam you automatically get a distribution license for content creation. This means that whatever you make in Maya LT via the Steam version, you don't have to pay any royalties to use those creations if you make a commercial game. How awesome is that?
Of course, a lot of you are probably wondering how much this venture will cost you. There's a monthly license fee that will be available for $50 U.S., dollars.
Also, for those of you curious about engine support, keep in mind that Maya LT was designed for design environments like UDK, CryEngine SDK and even Unity, with the press release noting...
It's really great to see these kind of tools becoming available on Steam. For users less skilled with 3D modeling and object creation, there's still Mixamo's Fuse, which is a nice entry-level tool available for people who have zero 3D modeling experience.
If you're interested in getting your hands on Maya LT, feel free to grab a copy when it becomes available on April 22nd. You can learn more about Autodesk's foray into budget-priced design tools by paying a visit to the official Steam app store page.
Your Daily Blend of Entertainment News
Staff Writer at CinemaBlend.