Mixamo Releases Fuse, Character Creation Tool On Steam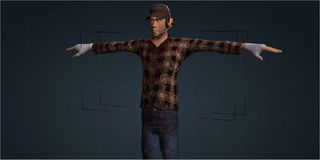 Game design is easier today than it's ever been before. The ability to mold characters, shape identities and sculpt 3D personalities using Mixamo's new Fuse is a cool way to compliment the process of designing anatomical bipeds with ease, and the program is available right now on Steam.
The software suite supports more than 25 smart texture substances using Allegorithmic's Substance tech, more than 163 different character parts to customize your 3D models with, as well as support for Valve's Team Fortress 2 characters, and easy exporting into OBJ files with diffuse, normal and specular maps for real-time lighting and shader capabilities no matter what engine or design environment you import them into.
You can also easily import Mixamo compatible characters from FBX, Unity, Collada or BVH. In addition to this, you can export characters made in Fuse to get two free auto-rigs with a Mixamo account for animation purposes. Personally, I always found rigging to be one of the easier processes of designing a 3D character and it just requires a bit of patience and precision, as well as a lot of highlighting and grouping. But even still, if you're not keen on the rigging process, Mixamo will offer up two free auto-rigs for you, just the same as they do with their normal services for free rigging on any character under 10,000 polygons.
Now, I do have to warn you about the software package based on Steam reviews. Looking through them, it appears that the early renditions of the software was pretty bare-bones. However, someone from back in January going by the name of Colon Left-Parenthesis makes a few belying remarks about the Fuse software, namely that for $99.99 – though it's discounted for a limited time by 50% for only $49.99 – it doesn't animate the characters. Hmm, yes well making 3D characters isn't cheap.
More powerful tools are available, like Pixologic's Zbrush or Autodesk's 3DS Max Studio, but you're looking on average to pay about $750 for the former and up to $3,000 for the latter, for the full suite of tools.
Seriously, $99 for the ability to make simple 3D characters that can be exported and used in a wide variety of compatible game engines is a miracle tool. That's not to mention that you can easily import OBJ files into Milkshape 3D if you really need to do simple animation work for cheap.
What's more is that Mixamo is continually expanding the library of Fuse, so you're getting additional content and features added without having to pay more. That's not to mention that they're adding in the function to create custom content. Sorry but all the complaining about it being $99 compared to more professional grade toolsets seems a little unwarranted. Also, did I mention Fuse content is royalty-free? Oh yeah, that's right... you won't be charged for using models made in Fuse in games, machinima or other creative design projects made for commercial use. I have to say, that's a huge win in my book, especially since I come from the era where making 3D characters had to be manually done, one vertex at a time and it would take up to a week just to finish a rather crude looking head.
If you can ignore some of the criticisms of people comparing this to The Sims or WWE games, you might find that Fuse is a great entry-level toolset for game designers looking for high-quality models without paying a premium price or royalty fees looming overhead.
You can grab Fuse right now for only $49.99 for a limited time over on Steam's official store page.
Staff Writer at CinemaBlend.
Your Daily Blend of Entertainment News
Thank you for signing up to CinemaBlend. You will receive a verification email shortly.
There was a problem. Please refresh the page and try again.