Metal Gear Solid: Peace Walker HD Has Four-Player Co-op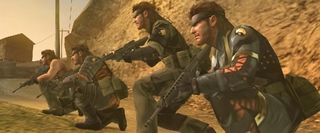 The original PSP version of Metal Gear Solid: Peace Walker supported co-op for four players. Metal Gear creator Hideo Kojima confirmed today that the HD remake for consoles will do the same.
"4 people can co-op and it is 60 frames. During loading, characters' dialogues pop up at random," tweeted Kojima. He also provided a picture of himself playing it.
Peace Walker, released last year on the PSP, takes place after Metal Gear Portable Ops but before the original Metal Gear. Big Boss is now running an army of mercenaries in South America. His group is hired by the Costa Rican government to repel a mysterious armed force that has invaded the country.
The Peace Walker remake is part of a larger Metal Gear Solid HD Collection. The MGS HD Collectiom updates Metal Gear Solid 2: Sons of Liberty, Metal Gear Solid 3: Snake Eater and Peace Walker with better visuals and Trophies/Achievements. It marks the first time these games will appear on the PS3 and Xbox 360.
Konami plans to release the MGS HD Collection in November.
Your Daily Blend of Entertainment News
Staff Writer at CinemaBlend.