Minecraft 1.8 Snapshot Now Available For Download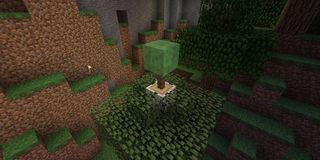 Minecraft players can now start testing out patch 1.8 for the open-world building game. The first "snapshot" for the update can be downloaded through Mojang's website.
"This update will be split into two primary focuses: Survival gameplay & improvements, and new fancy abilities for adventure maps! We've done a whole bunch of optimizing for both the client and server (with more to come!) and lots more work towards the Plugin API in the background," said Mojang's Nathan Adams on the company website.
Snapshots allow players to test out future features of Minecraft before patches officially go live. This is the first snapshot for 1.8 so Adams recommends that you backup your worlds before giving it a whirl in case of bugs. Case in point: Mojang has already released a "b" version of the snapshot because of how many crashes the initial version was causing.
To play snapshots, click the "New Profile" button in your game launch. Name this profile "snapshots," check the box that says "Enable experimental development snapshots," and save. You can go back to the normal version by selecting it from the dropdown in the bottom left corner of the launcher.
Patch 1.8 will allow PC and Mac Minecraft players to lock the difficulty for their world. Enchanting, renaming and repairing items will be rebalanced. Villagers will have additional professions, including Armorer and Butcher. Most important of all, though, you can stack doors up to 64 times.
Not everything in the final patch is in this snapshot, though. Here's what you'll be able to test starting today:
Survival changes:
3 new stone types
Major Enchanting & Repairing changes
Mossy stone bricks recipe
Updated Villager trading
Doors stack
Slime blocks
Lots of other tweaks, changes, bug fixes and secret features
Adventure Map changes:
Adventure Mode no longer lets you place/destroy blocks, but that can change
Added Entity Selectors. Use @e in certain commands to target entities. You can limit it with [type=Chicken] or [type=!Skeleton]
Added a /blockdata command
Added 'Lock' (String) NBT tag on most containers.
Added an optional entity parameter to /kill (try: /kill @e[type=!Player]
Added optional arguments to /clear for max item count (use 0 to not actually delete anything) & NBT data
Lots of other tweaks, changes, bug fixes and secret features
Mojang hasn't provided a release date for the full version of patch 1.8 yet. The exact date likely depends on how the snapshot testing goes.
The PC version of Minecraft recently topped 13 million in sales. Total sales of the game across all platforms passed the 33 million mark in October. Sales of Minecraft should continue to climb throughout 2014 thanks to Mojang's post-launch support as well as the upcoming PS4 and Xbox One versions.
Staff Writer at CinemaBlend.
Your Daily Blend of Entertainment News
Thank you for signing up to CinemaBlend. You will receive a verification email shortly.
There was a problem. Please refresh the page and try again.