Minecraft PS3 Launching Today With Free Demo, Festive Skins Pack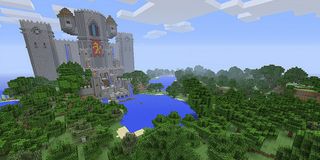 Update: The game should be on North American PSN now.
Original article: Today PS3 gamers in North America will be able to download the indie sensation Minecraft. The open-world building adventure will be available in a few hours once the PlayStation Store update goes live. European gamers will receive it tomorrow.
Minecraft allows players to explore a randomly generated world filled with animals, plants and different terrain. They can gather raw materials to use in crafting equipment or buildings. Buildings serve two functions in the game. First, it allows you to fend off the monsters that appear at night. Second, these buildings allow you to express your creativity. You can build whatever you want. Minecraft players have built recreations of the USS Voyager and World of Warcraft, among other things.
PS3 owners can journey through Minecraft alone or with friends. The game supports online multiplayer for up to 8, as well as 2-4 player split-screen mode. You'll need an HD TV in order to play split-screen, though.
According to the PlayStation Store listing, Minecraft will cost $19.99. It's a tinier strain on your hard drive, only totaling 85MB in size. I guess that's the upside to the game's blocky graphics.
This is a love-it-or-hate-it kind of game so it's a good idea to download the free demo through PSN before making your purchase. The PS3 demo's probably similar in content to its PC counterpart, with a time limit of 100 minutes and only one preset world. Multiplayer is disabled in the PC demo as well. It should properly acclimate you to the "explore, gather, build, cower in your cabin while zombies scratch the door" routine of the game, though.
The PlayStation Store listing also mentions that the PS3 edition will launch with a lone piece of DLC: the Festive Skins Pack. The Festive Pack, released on Xbox 360 last year, allows you to turn your characters into holiday-themed figures like Santa Claus, Frosty the Snowman or the Gingerbread Man. You can see a couple screenshots of the DLC here.
Mojang announced yesterday that the PS3 version will get other skin packs and texture packs in the future. They'll probably receive most of the DLC available for the Xbox 360 edition, except for that skin pack with Left 4 Dead and Gears of War characters. Mojang indicated that there could be some PlayStation-specific content on the way as well, which is great news for players hoping to dress up like Helghast or Nathan Drake.
PS4 and PS Vita versions of Minecraft are in development as well. However, they won't arrive until 2014 at the earliest. No word yet on whether these different PlayStation versions will be compatible with each other.
Your Daily Blend of Entertainment News
Staff Writer at CinemaBlend.