Minecraft Xbox 360 2nd Birthday Skin Pack Will Be Free To Download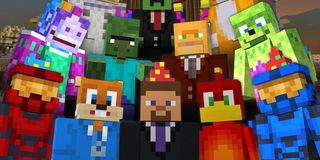 Minecraft Xbox 360 Edition is celebrating its second birthday on Friday. 4J Studios is marking the occasion by releasing another free DLC pack.
"Come celebrate Minecraft's Xbox 360 Edition birthday with free content and special deals on other available bundles," 4J said on PlayXBLA. "Much to the delight of millions of players, the Xbox 360 Edition of Minecraft was released on May 09, 2012 and has been one of the most popular games on the console ever since. To celebrate this monumental day, we're pleased to announce the following deals to get everyone in the party mood."
The 2nd Birthday Skin Pack includes characters from several Xbox 360 franchises. Halo, Fable, Viva Piñata and Banjo-Kazooie are all represented. The add-on will be available through Xbox Live from May 9th until May 18th.
4J will re-release the Birthday Skin Pack during the same period as well. The older DLC isn't another trove of licensed characters. Instead, it has party-themed skins like a shark wearing a birthday hat and a humanoid gift box.
The developers are offering a discount on other Minecraft DLC for Xbox 360, too. Skin Packs and Texture Packs can be purchased for half the normal price until May 11th. However, this offer doesn't include Marvel DLC such as the Avengers or Spider-Man Skin Packs.
4J has every reason to be generous. Minecraft Xbox 360 Edition has been an enormous success in its two years on Xbox Live Arcade. The game has sold 12 million copies as of April 4th.
The studio's currently working on an Xbox One version of Minecraft along with PS4 and Vita versions. They said on Twitter that the PS4/XB1 versions will have larger worlds than previous console releases:
The Xbox One version will be able to import saves from the 360 edition. However, it seems you'll have to buy a fresh copy of the game for Xbox One.
Image 1 of 4
Your Daily Blend of Entertainment News
Staff Writer at CinemaBlend.