More Details Indicate Xbox One Is Getting VR Support, According To Reports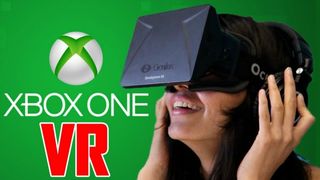 With E3 coming up in just a few weeks, leaks and rumors have been spilling out like crazy, and Xbox and Sony have been the center of this heat lately. Recently, we reported that there were rumors of Xbox One possible debuting both a stronger console with VR capability and streaming devices at E3. Now, a publication is reporting that a major developer is making a VR game for the Xbox One.
Ars Technica reported on the story saying a "major" developer and "well-known European studio" is working on a VR game for the Xbox One looking to release in 2017. And they also reported that the mysterious VR game will also be shown at E3.
Ars Technica also stated that the VR game will be "set in the universe of an established, long-running franchise." So you can imagine with all of this very secretive, new information, everyone's heads are buzzing with possibilities.
It's no surprise that this E3 is heating up to be a doozy with both Microsoft and Sony looking to unveil some hefty announcements. At least for right now, Microsoft seems to have captured everyone's attention with the possibility of a stronger, VR-capable console and streaming devices.
Honestly, it's very obvious what's going to happen if you think of this logically. The current Xbox One and PS4 are not strong enough to run VR games. They just aren't. And we already know about PlayStation VR, so it's obvious Neo is going to be the console that can smoothly run the VR device from Sony. On the other hand, Xbox needs to somehow compete with Sony's VR component and to do that, they need to release a much stronger console as well. So the most logical thing to do is to keep it under wraps until E3, but it's going to happen.
And then, to add a little competitive flair, the two streaming devices from Xbox (opens in new tab) will be a nice addition to try and steal away Sony fans, competing directly with devices like Google Chromecast and Apple TV. But the most important part of this will be how they execute it. Taking on competitors like Roku and Apple is very brave and could be disastrous if they aren't careful. Because right now, those two devices lead the streaming business. I'm skeptical as to whether or not Microsoft can pull that off seeing as how the Kinect was a failure, but you never know. Then again, I'm biased because I'm a Sony fan. It'll be interesting to see exactly what happens at E3 in a few weeks.
Your Daily Blend of Entertainment News
Thank you for signing up to CinemaBlend. You will receive a verification email shortly.
There was a problem. Please refresh the page and try again.