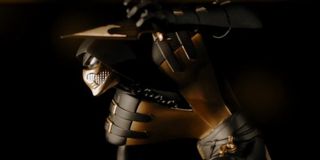 Publishers typically offer a pricey Collector's Edition for their major game releases. In the case of Mortal Kombat X, Warner Bros. Interactive Entertainment has lined up four Collector's Editions.
The first of the quartet is the Kollector's Edition by Coarse. This $149.99 bundle comes with the following items:
Exclusive Scorpion figurine and Certificate of Authenticity, designed by Coarse. Coarse has been recognized in Collector and Designer figure communities for their artistic approach, dedication to detail, and unique storytelling through sculpture.
In-game Gold Scorpion Skin, inspired by the Coarse figurine
The Kombat Pack, which includes access to four add-on playable characters from Klassic Kombatants to Iconic guest characters
In the Kollector's Edition trailer, the team at Coarse gives us a peek at the making of the Coarse figurine. The trailer also has some footage of this stylized version of Scorpion fighting in MKX.
There's also a second Kollector's Edition that's imported from Europe and exclusive to Amazon. It costs $179.99 and comes with everything in the other Kollector's Edition. The buyer also gets Mortal Kombat X: Blood Ties Comic Book Volume 1, a steel pack and steel card for their extra thirty bucks.
If you just want the DLC, you can opt for the Mortal Kombat X Premium Edition. This download-only bundle comes with the Kombat Pack mentioned earlier. It'll set you back $89.99.
"Ninety bucks? But I want to pay more than that," you're probably not saying. Well, in the case you can buy the Mortal Kombat Limited Edition exclusively through GameStop. The $94.99 Limited Edition comes with the Kombat Pack as well as a Cold War skin for Scorpion. The skin is said to be a collaboration between NetherRealm Studios and an artist from the fan site MKKollective.com.
Your options might be limited by your choice of platform, though. Only the PS4 and Xbox One are getting the Limited Edition and two Kollector's Editions. The Premium Edition is the only special bundle planned for the PS3, Xbox 360 and PC.
Whether you pre-order a pricey Collector's Edition or a no-frills $60 copy of the game, you'll unlock Goro as a playable character. Presumably everyone who doesn't pre-order will need to pay a bit extra to gain access to the four-armed freak.
Mortal Kombat X will debut on all platforms on April 14th. You can play it even earlier than that if you're an NFL player, though.
Your Daily Blend of Entertainment News
Staff Writer at CinemaBlend.