Nintendo Getting Serious About Marketing Wii U In 2014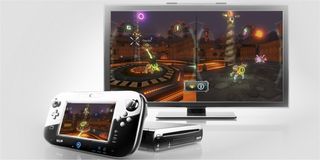 The Wii U for the first half of 2013 was mostly just silicon fodder, sitting on store shelves with hardly any promotion and very little legwork from Nintendo doing their bit to help get the console recognized and out there to the public. Well, thanks to the help of the Xbox One's DRM and a very strong line-up of games in 2014, Nintendo is back on track and Nintendo of America's president, Reggie Fils-Aime, makes it known that Nintendo is in it to win it... in 2014.
Now, this isn't the same kind of "PS3 will dominate in 2010" nonsense that seemed to be spreading around back in the day. Nintendo actually has an extremely strong line-up of original games on the horizon, along with strong independent support from creative developers looking to make their mark on the industry and get their games out there.
The Wii U has a fresh cache of games throughout the entirety of 2014, including hard-hitters like Super Smash Bros. U, Mario Kart 8, Donkey Kong: Tropical Freeze, Bayonetta 2, Watch Dogs, Project CARS and Monolith's X on the horizon. They also have mid-core titles like Hyper Light Drifter, Candle and Monochroma in the wings as well. Offering gamers both high-end experiences and independent titles making use of creative new gaming possibilities thanks to the GamePad.
In a new episode of GT TV, courtesy of My Nintendo News, The Regginator had this to say about Nintendo's software line-up for both the Nintendo 3DS and Wii U...
That really is great news and "messaging" for Wii U owners. Combine that with all the games listed above, not to mention the typical third-party multiplatform titles, and you have yourself some good opportunities ahead with the Wii U. I'm just hoping that Nintendo can hold on to some of their third-party support just throughout 2014, as that's when the console will really hit its stride as the Xbox One and PS4 fight over the console graphics whores constantly arguing whether or not you can see a difference between 720p and native 1080p (and obviously, you can see a difference).
It's likely that Nintendo can pull out ahead of the competition with the right kind of marketing placement, but that's up to Nintendo (and the gaming media) to pull it together and get the Wii U looking appeasing to undecided gamers.
Staff Writer at CinemaBlend.