Nintendo Unleashes Smash Bros. Wii U, Pokemon ORAS This Week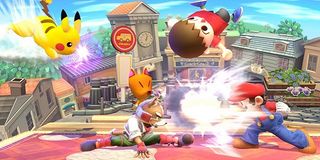 It's kind of a massive week on the Nintendo front, whether you're gaming on the home console or a portable machine. The Wii U crowd can finally join the fight with Super Smash Bros. for the Wii U, with the 3DS crowd diving into the latest games in the Pokemon series.
While Smash Bros. hit the 3DS a month or so back, the mascot-fueled brawler needed a bit more time in the oven before it was ready for its home console debut. That's no surprise, considering how much extra content the developers seem to have crammed into this latest version of the fighting legend. While the roster between the home console and portable versions are the same, and some of the maps are shared between the two, everything else about the Wii U version of Smash is bigger and badder than ever before.
More arenas that are more dynamic. More customization options. More modes. Amiibo functionality right out of the box. Up to eight players battling it out at the same time instead of the standard four. While I was a huge fan of the 3DS version of Smash, it looks like the Wii U offering is different enough to warrant a second dip for those of you who own both consoles.
In case I haven't ranted about it enough at this point and you're still unaware, today is also the launch day for Pokemon Omega Ruby and Alpha Saphire. This latest iteration of the popular critter catching game revisits the Hoenn region with all of the extra frills from last year's X/Y, as well as some other nifty tricks that should keep players old and new interested. You can sneak up on some rarer Pokemon, enter Pickachu in a cosplay contest, explore new map areas and even unlock Primal Reversions, the latest transformation that's even more powerful than the legendary Mega Evolutions.
If, however, you're not a fan of either of those series, then there are a few more family-friendly offerings hitting both consoles this week featuring a variety of heroic characters. Then again, if you're not interested in Smash or Pokemon, then what the heck are you doing gaming on a Nintendo console? I kid, of course...But seriously?
Over on the Wii U Watch Dogs also launches this week, finally bringing the open-world action game to the Nintendo home console. If you missed it earlier this year on the Xbox One or PlayStation 4, then now's your chance to flex your mad hacking skills in a world gone mad with technology.
Other Wii U launches this week include DK: King of Swing, Snake Den and Alphadia Genesis.
Over to the 3DS, and your non-Poke'-options begin with Battleminer and Teenage Mutant Ninja Turtles: Danger of the Ooze.
We're not done yet, however, as a trio of other games are launching simultaneously on both consoles. These include The Penguins of Madagascar, as well as a web-slinging twofer in the form of The Amazing Spider-Man and The Amazing Spider-Man 2.
Staff Writer for CinemaBlend.
Your Daily Blend of Entertainment News
Thank you for signing up to CinemaBlend. You will receive a verification email shortly.
There was a problem. Please refresh the page and try again.