Nintendo Weekly Update Includes Fantasy Life, Shantae, Bayonetta, More Castlevania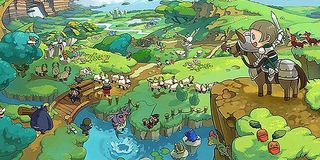 This week's Nintendo update is all about living the type of life you want to live, be it an adventurer, a vampire hunter or a genie on a quest to overthrow a horde of evil pirates. It's not an especially busy week for games on Nintendo consoles, but what's there certainly has some meat on its bones.
The sole AAA launch of the week is actually one of my most anticipated games of the fall, Fantasy Life for the 3DS. Remember what I was just saying about living life the way you choose? Well, that's exactly what you can expect out of this latest open world RPG from the legendary team at Level 5. In Fantasy Life, you can begin your day as a fisher and end it as a mage. Grown tired of of one job class? Then simply swap over to another one and pursue some unique goals. You can work as a miner to gather precious ores, then swap over to being a blacksmith in order to craft those ores into fine weapons. Next, you can become a soldier and use those very weapons to smite your foes.
Fantasy Life looks to boast a wide range of content, all in a magical, light-hearted world where you can be just about anything you can think up.
A handful of other titles are heading to the 3DS eShop this week, almost all of which are based on a television or movie series made for kids (though quite frequently enjoyed by adults). First up is Pokemon Art Academy, which puts your artistic skills to the test with loads of content ripped from the ridiculously popular Pokemon series. There's also Power Rangers Super Megaforce, The Legend of Korra: A New Era Begins and Big Hero 6: Battle in the Bay.
On the download only front, Wayforward returns to the beloved Shantae series with their latest original offering, Shantae and the Pirate's Curse. You'll take on the role of the titular genie, who needs to use her magical powers and titanium-strong ponytail to defeat a bunch of mischievous pirates.
Also arriving on the eShop this week are Secret Journeys: Cities of the World, Castle Conqueror EX and KORG DSN-12-, which is a music synthesizer...thing.
Over to the Wii U and you'll be able to get your hands on some sweet Bayonetta downloads, including the original game and the brand new sequel, Bayonetta 2. If you download Bayonetta 2, the original will be reduced from $50 down to just $10, so that's certainly not a bad deal if you're looking to experience the full series.
Finally, the Castlevania love continues this week on the Wii U Virtual Console with one of the best games in the entire series, Aria of Sorrow. Taking place sometime in the future, go on a quest through a magical castle as a confused high school student who is quickly discovering that they are in possession of some mysterious new powers.
Your Daily Blend of Entertainment News
Staff Writer for CinemaBlend.
Your Daily Blend of Entertainment News
Thank you for signing up to CinemaBlend. You will receive a verification email shortly.
There was a problem. Please refresh the page and try again.