Nvidia's Project Shield Launches This June For $350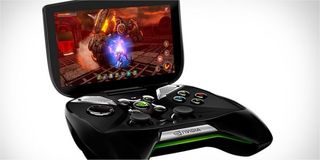 How do you feel about paying Wii U prices for a portable PC-style device that can play Android games and stream games remotely from your PC? The billion dollar chip maker is branching out of the GPU market and hitting the portable sector hard at $350 this June with Project Shield.
Shield was announced back in January, just after Nvidia's fiscal year ended with a hefty net profit of $562 million out of a $4.28 billion revenue stream, according to GamesIndustry.biz. The device has infrequently been in the news for games that it gains support for, as well as ported titles such as Need for Speed: Most Wanted.
If you have a high-end Nvidia GPU you can also stream games from your PC to the Shield using your home WiFi setup. So, technically, you can play your PC games via a mobile device in the same house just for kicks.
The system itself will run Jelly bean 4.2.1 and has built-in support for all Tegra Zone software titles for Android, essentially making it a faster, portable OUYA.
While I can understand the OUYA's $99 home console living room solution route, given that some people might want to game on a cost-effective console with family or friends without drying out the wallet, I can't understand Shield in quite the same light. As a portable you're getting lower quality games or less feature-rich games than the PS Vita or Nintendo 3DS, and as a device to play PC games it seems a little like an oxymoron to play high-end PC games on a portable device in the same vicinity of your PC.
Still, I'm sure some people might actually find a need for a device like Project Shield at the $350 price point. You can pre-order the Nvidia Shield starting May 20th from Nvidia's website or from participating e-tailers, including Newegg, Micro Center, GameStop and Canada Computers. Alternatively, you could just wait for next month to roll around and pick one up from retail this June. And if all else fails, you could always give the $499 Wikipad a looksy if you were interested in tablet gaming with analog sticks.
Staff Writer at CinemaBlend.
Your Daily Blend of Entertainment News
Thank you for signing up to CinemaBlend. You will receive a verification email shortly.
There was a problem. Please refresh the page and try again.