NVIDIA Project Shield Is Portable PC Gaming Device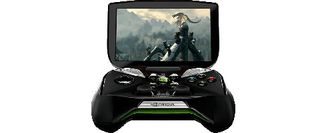 NVIDIA unveiled a new handheld gaming device today called Project SHIELD. SHIELD, powered by Nvidia's new Tegra 4 processor, allows users to play both Android and PC games.
The device is shaped like a console controller, with four face buttons, two analog sticks and four shoulder buttons. A 5-inch 720p multi-touch display is attached to the top of it. Integrated speakers are located at the base of the display. If you're playing on the go, you can hook up headphones.
Project SHIELD devices come loaded with the latest version of the Android Jelly Bean operating system from Google. This enables users to use any Android applications or games. SHIELD's 802.11n 2x2 MIMO Wi-Fi allows you to download new apps or play multiplayer.
The PC gaming feature is what will draw the most attention though. Project SHIELD can be used as a wireless game receiver for your nearby PC. This feature will work with any PC with a GeForce GTX 650 GPU or higher. The device's website mentions games like Elder Scrolls V: Skyrim, Battlefield 3 and Borderlands 2.
Project SHIELD can be used in conjunction with a television or PC monitor as well. There are HDMI and USB ports on the top of the controller.
There's no mention of any internal storage space for Project SHIELD. The Micro SD slot on the top suggests you'll have to use external cards. That seems like the only awkward part of an otherwise intriguing device.
The first images of Project SHIELD are below. The shots of the device running games seem like mock-ups. Hopefully we'll see footage of these games running on the Project SHIELD soon.
Image 1 of 9
Your Daily Blend of Entertainment News
Staff Writer at CinemaBlend.