PS4 And Xbox One Mass Effect Trilogy Listed By Retailer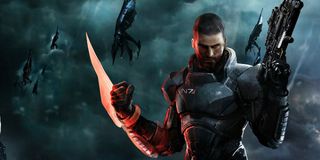 Mass Effect could be coming to the PS4 and Xbox One soon. An overseas retailer now lists the Mass Effect Trilogy bundle for both consoles.
Chilean retail site Zmart's listings for the PS4 and Xbox One Mass Effect Trilogy (spotted by a NeoGAF user) feature are light on information. They don't mention release dates or features for the bundle.
However, I wouldn't write off the listings as false just yet. The box art provided for each platform makes them seem credible:
BioWare revealed last month that they were considering a PS4 and Xbox One release for the Mass Effect Trilogy.
"We have discussed that internally," BioWare Edmonton and Montreal general manager Aaryn Flynn said on Twitter. "If we can put solid plans together we'll share. Great to hear you're keen."
Mass Effect Trilogy, as the name suggests, contains all three Mass Effect games. The trilogy contains about 75+ hours of single-player content, according to BioWare. Mass Effect 3 also offers co-op missions with an accompanying progression system. The bundle also includes many of the games' downloadable content packs, which introduce new party members and quests.
The trilogy bundle was released on PC, PS3 and Xbox 360 in 2012. It was priced at $59.99 at launch but have since dropped to $39.99.
The PS4 and Xbox One listings on Zmart don't mention a price but I suspect EA will release the game for $60 on those platforms, especially if they've enhanced the visuals for the game or included some additional content. A package of three lengthy games is certainly worth $60, assuming you don't already own the Mass Effect games on last-gen systems.
BioWare is currently making Mass Effect 4 or whatever it's called. The Frostbite 3-powered RPG is in development at the company's Montreal studio, which made ME3's co-op and Omega DLC. They haven't announced a release window or any details yet.
Re-releasing the older games might be a good way for BioWare to build up hype for the fourth game. EA views Mass Effect as a major franchise so they're going to do whatever they can to maximize the anticipation for the next original game in the series.
Your Daily Blend of Entertainment News
Staff Writer at CinemaBlend.