PlayStation Now Coming To New Devices In 2015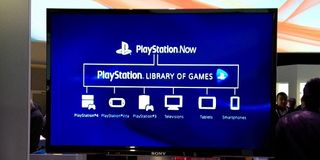 It looks like Sony is serious about making PlayStation games available to standard console owners and non-traditional gamers alike, announcing that the PlayStation Now streaming service will start rolling out to non-Sony television brands in early 2015.
It's becoming more and more clear that streaming is the future of video games. Weighing in at around 50 gigs a pop, the new generation's heftier titles are simply too big to download, taking up loads of time to acquire and knocking huge dents in standard 500 GB hard drives. Similarly, trends look to slowly be moving away from physical media, with more and more people opting to simply download their titles or rely on new services like what PlayStation Now has to offer.
I'm not saying this is a shift that will happen overnight. We could be a good decade away before all of the pieces finally fall into place. We need the correct infrastructure, refined marketplaces, better internet services and more to make this happen correctly, so I seriously doubt even the next generation of games console will be ready to move into streaming only services. But it looks like that's the direction we're headed.
Leading the charge into this bright new world of streaming games is Sony who, according to a recent post from Gamespot, is gearing up to bring its PlayStation Now service to more devices than ever before early next year, specifically to non-Sony brands like Samsung smart TVs.
Originally announced in 2013, PlayStation Now got up and running in May of 2014 with a beta launch for the PlayStation 4. The service finally became available on the PS3 just a few months ago, and can even be accessed through the PlayStation TV, a tiny kit you plug into your television that lets you play Vita and other PlayStation titles without needing to own a full-on console.
My guess is that the PlayStation TV is the true future of the company, with this first model being used to test the water and start getting all of their digital ducks in a row. Just think about it: No more massive, hot consoles chugging away on your entertainment system. These tiny boxes could hold all of the ram and storage you need for top-tier digital gaming, with said games and all of your other favorite tools and apps available in a single place. There are, of course, limitations with this kind of a service, but I still wouldn't be surprised to see it become the norm. Sony's even launching a new TV streaming service this year to replace basic cable, so it looks like they're making a genuine push to win the war for the living room.
One key strategy will be the 2015 launch of PlayStation TV on Samsung smart TVs. No word yet on which TV models will support the service, but the only extra hardware you'll need outside of your TV is a DualShock 4 controller. From there, you'll have access to all of the services normal features, including streaming gameplay, cloud storage, Trophy support, friends lists and the like.
Awesome. Now anyone with a fancy Samsung TV can enjoy the emotional trauma that is The Last of Us.
Staff Writer for CinemaBlend.