Puppeteer, Skullgirls, More Slated For PlayStation Plus In May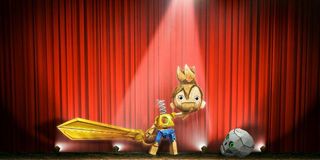 The PlayStation Plus May Instant Game Collection is all about cutting free from the strings that control you, sticking it to the man and…playing soccer? It's an eclectic mix across three platforms, meaning everyone gaming on the PlayStation 3, PS4 and/or Vita should have something to look for in the next 30-odd days, assuming you're a Plus subscriber, of course.
Per usual, the PlayStation Blog has already begun trumpeting the next month's worth of Instant Game Collection offerings, featuring one new title for the PS4, three for the PS3 and another two for the PS Vita. You'll have to keep checking back to find out which games are arriving on a weekly basis, of course, as well as what other discounts and goodies will be up for grabs, but this is certainly a good starting point for another four weeks of gaming with Sony's premium subscription service.
First up in May is the PS4 version of the decidedly off-kilter Stick it to the Man. An adventure puzzle game of sorts, this 2D title that looks like it was pulled straight from the mind of Tim Burton features an ordinary dude named Ray who one day discovers he has a "giant pink spaghetti arm" wiggling out from his brain. This arm allows Ray to read minds and then alter the way other characters are thinking, literally pulling items from the environment and sticking them into their thoughts. And that's just one of his bizarre new abilities. If you want to see the rest, you'll just have to play the game.
Over to the PS3 front and we're looking at three new games for the IGC in May, including Puppeteer, Pro Evolution Soccer 2014, and Skullgirls Encore. It's a motley crew, but a fantastic one. Puppeteer is hailed by many to be one of the most overlooked, whimsical platformers of the previous generation and PES 2014 does a great job of bringing the action of the soccer pitch to your television screen. And then there's one of my favorite games of the last generation, period, Skullgirls Encore. This highly stylized, gorgeous, lightning-fast indie fighter features a rag-tag roster of intriguing characters, the single best fighter tutorial I've ever seen, multiple play modes and even more characters being added on a regular basis free of charge. I'd tell you to rush out and buy it now but, since it'll be part of the Plus offerings next month, you might as well hang tight and enjoy it at no extra charge.
Finally, we've got two games on the Vita to talk about, including Surge Deluxe and Limbo. Surge is a simple, yet addictive puzzle game and Limbo is one of the most talked about downloadable titles of the past decade, giving players a short but wonderfully haunting platforming adventure to play and then ponder for days to come.
Look for all of that and more to hit PlayStation Plus in May.
Your Daily Blend of Entertainment News
Staff Writer for CinemaBlend.